I would like to introduce you to my new blog friend, Ashley.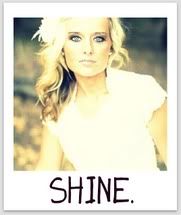 She has one of the most positive and optimistic blogs in blogland.
Here is why she started her blog…
"I started The Shine Project with the intentions of motivating people to go for their dreams, while helping others along the way. I had chosen the word SHINE as my theme for 2011, and it has taken off."
What is the Shine Project?
"Each week, I challenge my readers to do something. Something challenging. Something that will make them go out of their comfort zone and act. I feel like every single one of us has a dream or goal or something that we want to accomplish but for whatever reason we just don't do it! I have been inspired to make this site to help others (and myself for that matter) to do hard things and to start doing them now!"
"Sometimes, all we really need in life is someone who believes in us. Someone who believes that we CAN and WILL do things that we never thought we could do. Sometimes, all somebody really needs to do something fantastic is just a little encouragement and a push in toward their goal."
Listen to how motivating Ashley is…
"Let's see how much good we can accomplish by
performing extra acts of love.
Let's see how many people we can make smile,
and how many lives improve because of it.
I want to hear about what you've done to shine,
and how it's changed you.
Not only does it involve helping others,
but feeling good about ourselves so that we can Shine too!
From creating, to dressing in a way that brings out your personality,
The Shine Project
allows us to do little things in our own lives
to make us feel GOOD!
I've created these SHINE necklaces
to remind me of my goal,
and to pass along to others to help them Shine as well."
Aren't her necklaces beautiful?
The necklaces above are only $11.00, and one dollar of the price will be going to
the first ever Shine Project Scholarship award
for an inner city school students college education.
She has even more styles to chose from so be sure to check them out on her blog.
You can see them, HERE.
I hope you take a minute to stop by Ashley's blog and soak up its goodness.
You will be so glad that you did.
:)
Tell her I sent ya!
Have a blessed Sunday!
(all of the above pictures  in this post are from Ashley's blog)