Can you believe Mother's Day is this Sunday?
Yes…this holiday is bittersweet to me.  When I pass the Mother's Day cards at Walmart, my heart aches to buy one.
But I know my mom, and she would tell me to celebrate BEING a mom, so that is what I will do.
Being a mom isn't an easy job, is it?  But the rewards of being a mom far outweigh the struggles!
What a blessed calling to be a mom!
If you are still blessed to have your mother, I pray you give her the love and praise she deserves this Sunday.  Do something extra special for her.
If you need a gift idea, I would like to suggest Sandy Coughlin's wonderful book, The Reluctant Entertainer.
(Sandy is not one of my sponsors, and I am not receiving anything for this post.  She is just a great friend who has written a great book that I think mothers would enjoy.  So I gladly write this post!)  :)
Here is what Sandy says about her book on her website:
In my NEW inspirational book, The Reluctant Entertainer, I relate to many apprehensive hostesses in real ways with genuine encouragement and advice. Emphasizing the forgotten goal of entertaining – connecting deeply with others – I show how women can use who they are and what they have to create memorable experiences.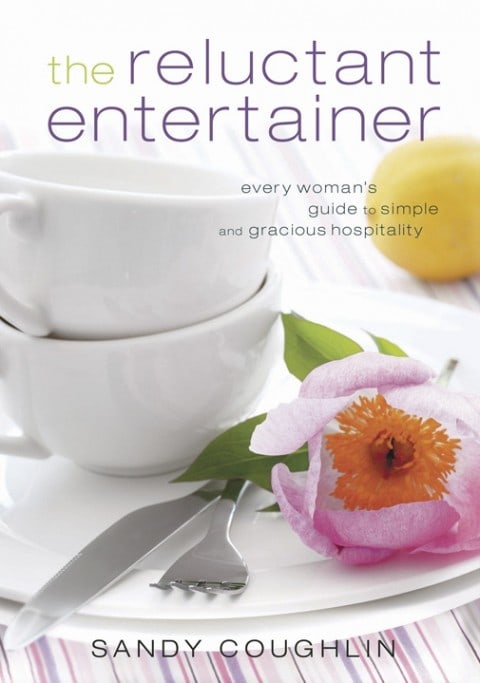 Isn't it beautiful?
Here's what The Nester says about it:
The Nester, author of Nesting Place
"For any excuse-making woman who avoids inviting guests into her home, this book should be required reading. The Reluctant Entertainer gently unveils common misconceptions about entertaining and guides women to the freeing truth: The art of hospitality is about connection, not perfection. I wish I could have read this book fifteen years ago."
I agree with Nester.  I feel I am not a good entertainer if everything isn't perfect in my home.  However, it's not about being perfect, it's about connecting with others.  I am praying for God to change that part of me.
Sandy and her husband just did an interview with Dennis Rainey on FamilyLife Today.  If you would like to learn more about Sandy and her book, you can listen to it here:  FamilyLife Today:  Overcoming the Obstacles.
Now, would you like a copy of

The Reluctant Entertainer

?
Here's your chance!
Sandy is offering a signed copy to one blessed Beneath My Heart reader!
Woohoo!
Here's three ways  to enter:
1.  Leave a comment telling me what you are doing for Mother's Day.
2.  Tweet this:  I'm hoping to win a signed copy of Reluctant Entertainer @beneathmyheart!  http://www.beneathmyheart.net/?p=3495 @SandyCoughlinRE, then come back and tell me about it in a comment.
3.  Share this giveaway on  your facebook page and then come back and tell me in a separate comment.
If you would like to go ahead and buy a copy,
you can purchase

The Reluctant Entertainer

HERE.
This giveaway will end on Wednesday, May 4th at 9:00 pm EST, and I will announce the winner on Thursday, May 5th.