Hey guys!
I just wanted to let you know about a great little series going on at OneProjectCloser.
Each summer, they host a Before and After contest supporting Habitat for Humanity.
I entered my Back Patio Makeover last summer and was one of the weekly winners.
Then my wonderful readers rallied around me, voted, and my Back Patio was the overall winner of the summer!!!  Woohoo!
I love this series because OneProjectCloser donates money to Habitat for Humanity in the honor of each weekly winner.
Here are the contest guidelines that I copied and pasted from the website:
How it Works
You submit pictures and a story from a home improvement project you* worked sometime over the past year. Projects can be anything from a simple room makeover to a complete landscape overhaul. Every Sunday from June 21 – September 22, 2011, we pick the most compelling entry and post the story on our site. If your submission is picked, you get a $50 gift card to either Lowes, Home Depot, or Amazon. And, the best part – we make a donation of $100 to Habitat for Humanity in your honor!
At the end of the Summer, voting begins, and the best before and after wins a bonus $150 gift card to one of the three stores above.
*You (including your family and friends) have to have done at least 75% of the work on the renovation! No contracted jobs for this contest!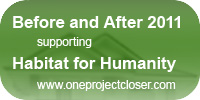 How to Participate
There's a couple ways we are asking people to participate including entering the contest, telling your friends and readers and displaying one the badges below.
Your Before and After Story
You've put in the blood, sweat and tears, and now it's time to show off your amazing makeover. E-mail us your submission at beforeandafter@oneprojectcloser.com. Your entry can be in the e-mail itself or attached as a Word document. Make sure to number pictures in order so it's easy for us to reconstruct the story. Please attach the pictures as JPEGs even if you also embed them inside the Word document.
Keep in mind that good before and afters include interesting pictures (before, during, and after) and a descriptive "how to" story. Check out the 2009 winners and 2010 winners to see examples of winning submissions from prior years.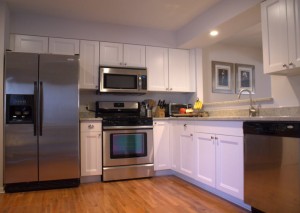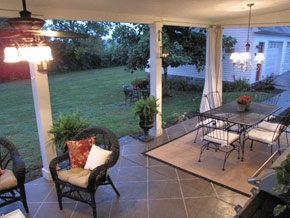 Remember, there's nothing special about the folks who submit entries. Our previous winners generally are not professionals. They're average folks like you and us!
Tell your Friends
This series is only a success because of the great submissions we receive, and telling your readers about it is the best way to spread the word. Please consider writing an article on your site letting everyone know about the contest. One thing is definitely true about this event: the more submissions and comments, the more fun!
If you'd like to support us throughout the Summer, check out all the badges below. If you don't see the color scheme that will work with your site, just shoot us an e-mail at beforeandafter@oneprojectcloser.com with the colors you want and we'll be happy to make one up!
Supporting Habitat for Humanity
Habitat is a nonprofit that is extremely dear to us at OPC. Here in Baltimore city, we've seen how they transform communities. Just check out some of the pictures on our new Facebook page. We started this event three years ago as a new way to help raise awareness for Habitat, and support their mission to provide decent, safe and affordable places to live. We also commend the way they go about it (by requiring those receiving assistance to put in sweat equity into their own homes and other homes in their communities). Habitat is an international organization, and we encourage everyone to volunteer with their local chapter.
By the end of the Summer, we'll have given more than a $1000 to Habitat. But that's really just the beginning! We hope that you'll partner with us along the way. Each week, we include a short fact about Habitat's activities around the world (like their work in Haiti, for example), and we ask that you commit to partnering with them financially by making your own donation online.
The Prizes!
Along with a donation to Habitat in your honor, we're sending a $50 gift card to Home Depot, Lowes, or Amazon for each weekly winner. Make that gift card go further with our Lowes Coupons and Home Depot Coupons to save some dough off your next purchase!
Doesn't this sound great?!
Now go on over to OneProjectCloser and enter your best DIY Before and After project…and Goodluck!