Hey Friends!
I just wanted to let you know that some online friends of mine, Dave and Mary, from Front Porch Ideas and More, have created a delightful Autumn Decorating ebook
This ebook features Autumn decorating ideas from 40 bloggers, including me.
There are many great ideas in this ebook for decorating your front porch that will make it admired by everyone in the neighborhood!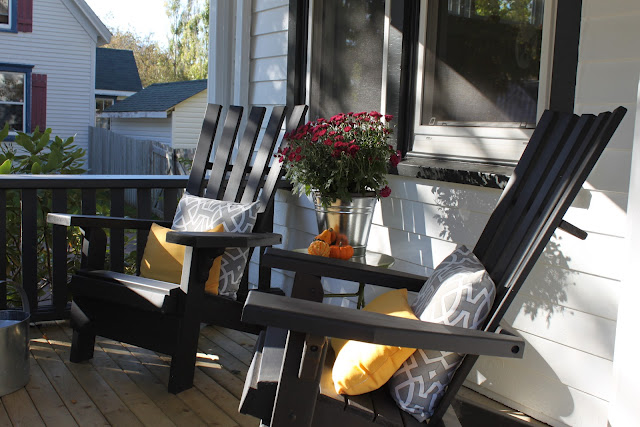 Here's more about the ebook from
Don't Let Budget, Time Or Talents Keep Your From A Pretty Autumn Porch
If you're on a shoestring budget, then perfect! The bloggers' decorating tips are centered around what you already have or can purchase inexpensively.
Feel short on time? Not to worry. Most of the ideas take just a short time to gather materials and group them on your porch.
And if you wish you were more creative, you'll be surprised at what you can do armed with the guidance from these bloggers.
We tucked in several autumn porch-worthy recipes in between the decorating pages. Thanks to the bloggers.
How about serving a slice of Pumpkin Cheesecake or Coffee Trifle to your best friend on the porch?
Or inviting your neighbors over for a bowl of Hearty Pork Chili, a savory slow-cooker recipe, and pumpkin biscotti for a light dessert.
You can already hear the "ooohs" and "ahhhhs".
No-Risk Guarantee
Our Autumn on the Porch eBook comes with a 100% guarantee: If you are not satisfied with it for any reason, just contact us within 60 days of your date of purchase – and we'll gladly issue you a 100% refund with no questions asked. Your eBook purchase is 100% safe and secure – and 100% risk-free.
I am soooo ready for fall, and I cannot wait to start decorating my home.  I'm gonna start with the front porch!
If you are needing some great decorating ideas, maybe you would like to purchase this book.  Just click on the picture to check it out.
Happy Fall Y'all!!!
This is not a sponsored post, but I am an affiliate of this ebook and will receive a percentage of the profits from the sale of this book.  Thanks!