On Tuesday, I showed you my boys' room, and the great little collector's shelves my father-in-law made for the boys.
He made them for me because I have always loved the ones in the Pottery Barn Kids magazines.
Well, I was wanting one for Eli's room too, so that's how I got the idea for my Gorilla Glue project.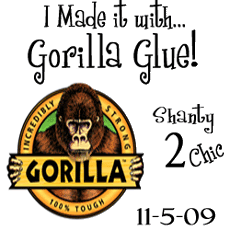 Now girls, I am always thinking about you! ('Cause I could just let my husband make it.) But I'm really hoping that this might be a project that you could do too!
So this is what I keep in mind when planning a project…
"How can I make this in a way that anybody could do it too?"
And "How can I make this inexpensively?"
Well, I think this project is both EASY and THRIFTY.
Here are the supplies you need:
* 2 – one inch by three feet pieces
*1 – one 4 inch by three feet piece
*2 – two wooden plaques
I got all of these supplies at Hobby Lobby.
They were originally $15.00 all together, but they are 50% off this week, so that's only $7.50!
I bought a bottle of Gorilla Glue Epoxy and used my 40% off coupon, so it only cost about $3.50.
(I totally stole this picture of Gorilla Glue from The Shanty Sisters because I forgot to take a picture of mine! Hope that's alright ladies!)
I bought some "d" rings at Lowes for about $2.00 to use to hang the shelf.
And I had white paint at home, so that was free. But you could spend a couple of dollars on a can of spray paint, and have about $15.00 in this whole project!!!
Not bad considering that the 3 foot long collector shelf from Pottery Barn costs $59.oo! (plus shipping!)
First of all, I took the 4 inch wide piece (which would be the base of my shelf) to draw a line where I wanted to cut the plaque.
Then I used that same piece to draw a line where I wanted to cut off the bottom of the plaque.
Then the plaque looked like this. To show you the part I wanted to keep to make my shelf, I scribbled on it.
I used a miter saw to cut on my lines, but you could use a regular blade saw for this part.
Then I laid the cut piece on top of the other piece to draw the line where I wanted to cut. I wanted to make sure they were exactly the same length.
Then I used my Gorilla Glue Epoxy to glue my 4 inch base piece to both sides of the cut plaques.
I measured one inch from the base and glued my first one inch piece.
As you can see, I had to use my nail gun to hold the pieces in place. The Gorilla Glue bottle said to hold the pieces together with a clamp and let it sit. But I couldn't figure out how to clamp two pieces that formed
a 90 degree angle!
So the staples were my solution, and it worked for me.
I added one more rail by using the Gorilla Glue.
The rails seemed a little "flimsy" to me, so I need a little piece in the middle to support it.
I paid $1.52 for a one foot piece of 1 x 4 poplar at Home Depot. One of the workers at Home Depot even cut one piece 4 inches long (which is the width of the base of the shelf) to save me a step at home!
For the sake of time, I just used my nail gun to attach this piece, but I could have used the Gorilla Glue too.
Then I painted it white.
I attached the D rings that I got at Lowes.
And it was ready to hang in my sweet Eli's room!
I put it right under the window by our rocking chair.
Perfect for reading some books at bedtime!
I love that the shelf is wide enough to stick stuffed animals in it too!
I absolutely LOVE it! It is exactly what I wanted.
And guess who else loves it?
How cute is that?
The perfect height for my little man!
Thank you Shanty 2 Chic for hosting the "I made it with Gorilla Glue party"!
I have been wanting to do this project for-eva!
And now I can check it off my "to do" list.
I am headed over there now to see what other amazing projects have been done with Gorilla Glue…
And then I'm headed over to The Shabby Chic Cottage for Transformation Thursday…
Come join me!
Blessings,