How cool is this?…
Here is what I found over at "Queen Bee Designs" today:
I received a special request from a new father for a pendant of his own. Along with the request came a scanned photo of a drawing he made. I love creating totally unique pieces for people and this was no exception. I think it turned out pretty close to the drawing, don't you?
Smiles,
Amanda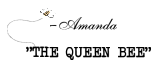 Do you have an idea for a custom-made piece of jewelry?
Pop over to "Queen Bee Designs" and tell Amanda about it!
I bet she can make you something you will love.
Have a blessed day!
Traci