It's summertime, Y'all!  And you know what that means in blogland?!!
It's time for the One Project Closer "Before and After" series in support for Habitat for Humanity!
This is a great series to be a part of.  I have participated the past two years.  In 2010, I entered my back patio makeover in which we stained our concrete to look like tile.  You can read about it HERE.  I was so excited that our little makeover was one of the weekly winners!
In 2011, I entered my mudroom/laundry room project  and was chosen to be a weekly winner AGAIN!  Better yet, my project was chosen as the BEST OVERALL project for the summer!
Woohoo!!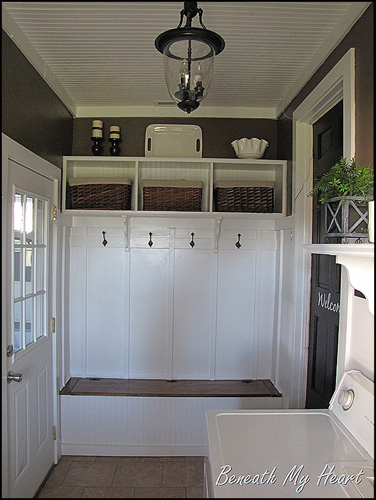 It was such an honor to be the weekly winner twice, and the overall winner as well.  Each time I received a gift card to the home improvement store of my choice, which was super cool.
But the best part?
Each time I was the weekly winner, a $100 donation was made to Habitat for Humanity in my honor.
I LOVE Habitat for Humanity!!!  It is a great organization that does so much good for those in need. 
One Project Closer is a great site for all of us who love all things DIY!  Fred and Ethan (and their beautiful wives) are always working on a DIY project and love to share their knowledge with their readers.  You should check it out!
They came up with this great "Before and After" series as a way to raise awareness for Habitat for Humanity and support their mission to provide decent, safe and affordable places to live.
Here's How it Works
If you're not familiar with the series, here's the basics: you submit pictures and a story from a home improvement project you worked (no contracted jobs) sometime over the past year.
Every week of the summer (June 20 – September 21), a winner is selected and their story is published online.
Each winner gets a $50 gift card to either Lowes, Home Depot, or Amazon, and One Project Closer makes a donation of $100 to Habitat for Humanity in their honor!
At the end of the Summer, the best submission, as voted on by readers, wins a bonus $150 gift card to one of the three stores above.
This year is different and even more AWESOME because they've asked 13 other sites (including Beneath My Heart!) to get involved, each hosting a week, picking that week's winner, and featuring the Before and After article on their site.
Check out the line up:
Here's How to Enter
To submit a before and after story, email OPC your submission to beforeandafter@oneprojectcloser.com.
Your entry can be in the email itself or attached as a Word document.
Make sure to number pictures in order so it's easy for them to reconstruct the story, and please attach the pictures as JPEGs even if you also embed them inside the Word document.
Keep in mind that good before and afters include interesting pictures (before, during, and after) and a descriptive story. Here are some great examples from last year.
Alternately, they are letting people enter via a new link party to show off great transformations. Select one of your best makeover projects to share, and don't be surprised if Jocie pins her favorites to Pinterest.
So ladies, get those projects entered, and good luck!!!
I will be judging next week's winner and will announce it next Saturday, July 7th!