Hey Ladies,
Just wanted to let you know I was guest posting at two fabulous blogs!
I was supposed to guest post at Miss Mustard's Seed last Friday, but my internet was down and she had to wait until today to post it.  I'm sharing a little sneak peek of a slipcover I made for my office chair.  Please come see me!
I am also sharing a tutorial that includes burlap (woohoo!) over at Gail's awesome blog, My Repurposed Life!  She's another Ky girl, so you've got to love her. :)
Click the button to visit me there.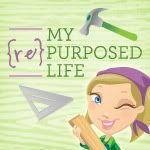 I will be back tomorrow with a great post about decorating an outdoor space.
And I've got some more crazy house news to share.  There may be a change of plans….