Ballard Designs Inspired Mirror
When I moved my furniture around in my den this summer, I had a huge wall space above the couch that I needed to fill.
I didn't have  money to buy something, but if I did, I would have bought these mirrors from Ballard Designs….
But these are two for $199.00 !  That would be $398.00 plus $38.90 in shipping costs!  For a grand total of $436.90…Not gonna happen!
Lowe's has mirrors in their store almost exactly like the Ballards ones for a cheaper price.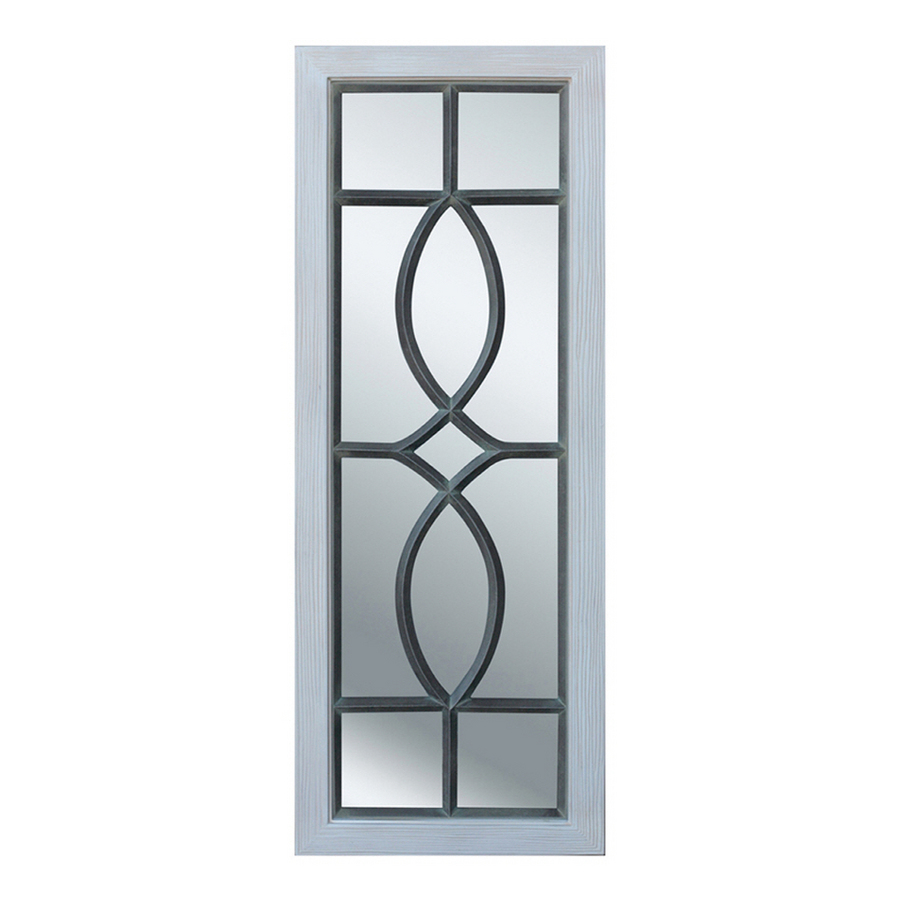 They are only $79.00 a piece and they are beautiful.  Plus, you don't have to pay for shipping!  That will save you about $117.00.  If you like that look, you may be interested in these.  However, at $320.00, these were not an option for me either.
I needed a mirror for like…hmmm…..nothin'!
So I decided to use an old frameless mirror that used to be in our bathroom before we remodeled it.  (Very GREEN of me, don-cha-think?)
My handy husband framed it out with 1 x 4's.
I stained the wood with Minwax, Dark Walnut.
Painted it white.
Then glazed it with Valspar Mocha glaze.
(I'm sorry, but I dropped the ball when it came to taking pictures of each step.  I was in  a hurry.)
Here is the mirror at this stage…
I bought some decorative pieces from Lowe's for less than $4.00 to add to the frame.
I did the same paint treatment on these pieces and added them to the frame with wood glue.
Then I sanded all the edges to let the dark stain show through.
Here it is above my couch.  I am hoping to get a new couch someday too.  :)
And here it is since I've added a few (and I mean a few!) fall touches.
I got the sconces from Southern Living at Home.
So the only thing I bought to make this large mirror was the little decorative pieces for the corners.  The rest of the mirror was made from supplies we had at home.
Even though it doesn't look like the ones from Ballard Designs, it fills up the big space above my couch, and it saved me about $430.00!  Guess I can't complain!
Blessings,
Update on Mom:
She is feeling  better this week.  She is scheduled to start back on her chemo next Tuesday, but it will not be as strong of a "dose" since the last treatment caused her to spend four days in the hospital.  Her potassium has been dangerously low this week which puts her at risk for cardiac arrest.  So the past three days she has had to go to the doctor to get her potassium through an IV.  It's about a six hour process, and it is very exhausting.
If you would like to know how to pray for her specifically, please pray that the swelling in her legs and feet would go down.  It would help her be more independent and get around much easier.
Her spirit is strong.  She's making the best of all the trials she is going through.  She keeps saying that she is just so thankful for each day she has with us.  We are too!
We are all living "one day at a time."  Which is actually a great place to be.
Thank you for all of your continual prayers.  We have felt them.
Thank you for praying for Eli too.  His feet are doing amazingly well.  We went to the doctor today to get them checked and make sure they are healing well.  The doctors said they are looking great!  I am so thankful.  He's one tough cookie!