All I can say is…Oh My Goodness!!!
Ladies, I had a ball! An absolute ball!
I didn't really know what to expect when I got to Blissdom. And to be honest, I was scared to death to go to the opening ceremony by myself. I couldn't help but think, "What in the world am I doing here?'"
But right off the bat, I met Rhoda (Southern Hospitality). My mom's favorite blogger (and mine). And she put my mind at ease. She was gracious and kind, and so welcoming to this new little blogger.
She kind of took me under her wing that weekend and made sure that I was a part of the "home decor" blog family. I truly don't know what I would have done without her!
Thank you, Rhoda!
And if that wasn't enough, I met THE Layla, from The Lettered Cottage.
Yep. It was pretty amazing.
We all know and love Layla. And if you met her in person, you would love her even more. She has a beautiful spirit about her. I think I could have talked to her for hours.
And I even dissed my sister for lunch when Rhoda and Layla asked me to eat with them. Are you kidding me? I love ya, sis, but it was Rhoda and Layla! I was in blog heaven!
Of course, my sweet sister understood. Gotta love her.
Here's a picture I borrowed from Rhoda. Sitting to my left is Sandy, from Reluctant Entertainer. And to my right, Layla, and Melissa, from Drop that Baby Weight.
Sandy was such a blessing to me. We instantly connected. I think we look like sisters, don't you? :)
Sandy was also an angel to me that weekend. She would save me seats and hang out with me during the breaks. I felt so special! What a blessing it is to call her my friend.
Love you, Sandy!
(This photo collage was from Layla. Her pictures turned out way better than mine.)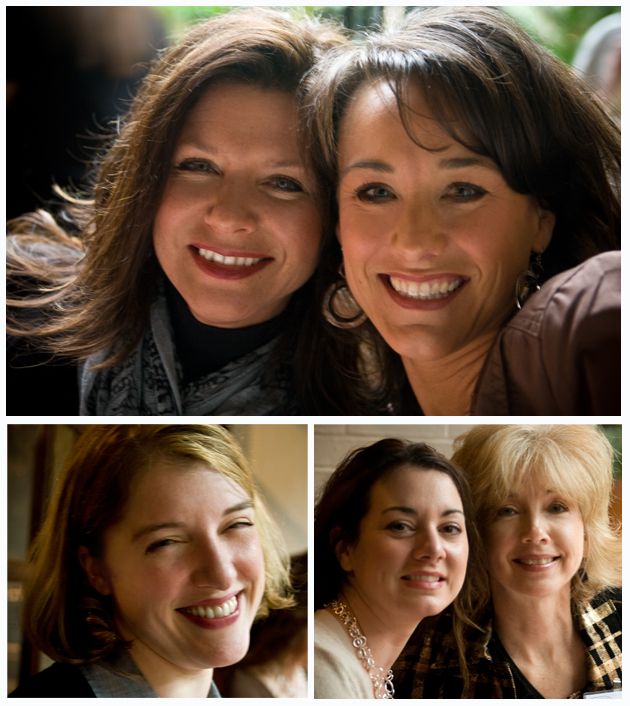 In the bottom left picture is Melissa…such a beautiful girl! And the vivacious Kate from Centsational Girl, and Rhoda.
Kate was so much fun to hang out with. She has such an energetic spirit about her. And she's quite sexy bras too, don't ya think?
You go, girl!
And of course, I had to meet the ever so famous, Sarah, from Thrifty Decor Chick. Yes, I was stalking her.
I talked to my ten year old son on the phone Friday night, and you know what he said? "Hey Mom, have you met the Thrifty Decor Chick, yet?"
I laughed out loud!
Oh goodness, what have I done to my family?!
I couldn't wait to tell him I met her…and got a picture to prove it! I'm a lucky gal!
And Sarah is just precious. So easy to talk to. I lurve her! (As she would say.) :)
Here are the other amazing women I had the opportunity to meet…
Kimba, from A Soft Place to Land, was so, so, so, so sweet! There's no way you couldn't love this girl! She was one of the speakers at BlissDom and did a fabulous job!
I was so excited to meet Nester, from The Nesting Place (on the right). She is just plain cool! Check out her shoes!
And sweet Melissa, from The Inspired Room (on the left). Melissa emailed me before the conference and told me to find her. She even gave me her phone number to text her. She has no idea how much that meant to me! She's a doll.
Wow! What a weekend!
I still haven't come down from the clouds.
Oh yeah, I did attend the conferences. And I did learn a lot.
But as you can tell, the highlight for me was meeting so many amazing ladies.
I can't wait til next year!
Thanks for letting me share all of my BlissDom fun.
And I want to thank my precious sister for coming along with me. She didn't attend the conference, but enjoyed hanging out at the Opryland Hotel.
I treasured my time with her! She's the best.
You can visit her blog, HERE.
And a BIG thank you to all of YOU for all of your sweet comments and for sharing in my excitement about BlissDom. You rock!