Beautiful Christmas (Gifts)…on a budget!
Hi there!
Welcome to Day 4 of the Beautiful Christmas…on a budget series!
Today it is my turn to share with you some inexpensive gift ideas for the Christmas season.
I don't know about you, but money is tight these days, right?
But even if money is tight, that doesn't mean that I still don't want to give Christmas gifts to all my loved ones, family, and friends!
Is your Christmas gift list as long as mine?
Well, if it is…then you have the same dilemma I have.
Do I buy just a few people on my list an expensive gift (because that is all I can afford), or do I buy (or make) everyone on my list an inexpensive gift?
Here's my decision…I would much rather give everyone on my list something!
One reason is because I truly believe in the saying…"It's the thought that counts."
It IS, isn't it?
Don't you love getting those little, unexpected gifts from others that warm your heart just because they "thought" of you.
I sure do!
So I came up with a few easy crafts that are super cheap…but cute, and easy to make…yet meaningful.
Gift #1
Dressed Up Post-it Notes
The first gift idea is one that I am making and giving to my children's teachers.  Being a teacher myself, I can tell you that you can NEVER have enough Post-it notes!  So why not make them real "purdy" and more enjoyable to use?!
Here's all you need:
Post-it notes (Walmart has 4 for $2.00)
Scrapbook Paper
Velcro buttons
Hot glue gun and a gluestick
Miscellaneous items from your "craft drawer"….stickers, stamps, ribbon, buttons, etc.
First you measure a piece of scrapbook paper 3 1/2 inches wide by  8 1/2 long and cut on the line.
Then do the same thing for the other piece of scrapbook paper you want to use.  I just made it a little bit smaller than the solid color paper.  To be honest, I kind of eye-balled it!  :)
Then I hot-glued the Post-it note pad in the middle of the inside of the paper and folded up the sides.
Then I cut the patterened paper in three sections and glued it to the red piece of paper.  (Notice how I creased the edges below to0 hard and my paper tore a little?  I did not crease the other ones I made, and they worked perfectly.  Just let them fold naturally over the sides of the Post-it notes.)
Then you used a these velcro buttons to fasten the two sides together…
Here are some of the Christmas note pads I made….(I wish you could see the glitter on each one…they are so cute!)
I had so much fun making these, that I decided to make some for my niece, Kinsey.  She's 11, and she would love using these! (And you can use them to send a special message too!)
I tied all three note pads together with a cute white bow and added a pink mechanical pencil for fun!  I know she will love it!  Heck..who am I kidding?  I would love it!  :)
And these I made for my school secretary!  Won't she feel special using these?…
I also think these would be simple, thoughtful gifts for Sunday School teachers, librarians, Assistant teachers, etc.  You could add some cute pencils and a ribbon to just one post-it note, and it looks adorable!
(I got the pencils at Walmart.)
Here's a cute one for your child's music teacher…
I cannot tell you how much fun I had making these.  I could have made them all night long!
I looked in my "craft" drawer and found little buttons, ribbons, and stamps to use.  So they were FREE!
To make about three of these Dressed Up Post-it Note Pads, I estimated it cost me about $1.50-2.00.  Now that's a great price for a Christmas gift!
You could afford to make these for MANY people on your Christmas list!  Woohoo!
Gift #2
Handmade Coasters
The next gift idea I am sharing is one of my favorites from last  year.  I made these tile coasters for my sons' teachers, and they loved them.  I got the idea from a student who gave them to me about 8 years ago.  I just loved them!  Every Christmas, I have used the coasters she gave me, and I think of her sweet face!
These have got to be the easiest, most inexpensive, yet cutest, gifts I have ever made for someone.
They make perfect Christmas gifts for school or Sunday school teachers, neighbors, co-workers, or anyone else on your list! You can make a large batch of these and cover most of your gift list!
Here is all you need:
4 x 4 white tiles (from Lowe's or Home Depot)
napkins with a cute picture
*mod podge
*cork board
*acrylic sealer
glue gun
*sponge brush
*These products can all be purchased at places like Walmart, Hobby Lobby, Michael's, etc.
You can get the tiles for as low as 16 cents a tile!
I already had the cute Santa napkins from last year. But you can get a pack of napkins for a couple of dollars.
Now here are the easy steps.
1. Cover the tile with a layer of Mod Podge.
2. Lay the napkin (cut a little smaller than the tile) on top of the mod podge.
3. I usually let the the mod podge dry just a bit, and then apply another coat on top of the napkin.
4. Let it dry.
5. Cut the cork into square pieces that are a little smaller than the tile.
(You can get cork in different thicknesses. I prefer the thinner kind.)
6. Hot glue the cork to the bottom of the tile.
7. Spray the tops of the tiles with acrylic sealer and let dry. Be sure to do this in a well ventilated area. I usually spray mine in the garage or outside.
The sealer allows your tiles to get wet without ruining them.
That's it!
8. Tie them up with jute string or a bow, and they are ready to give away!
Here's another idea…
Monogrammed Coasters!
I printed the letter "H" off my computer and followed the same steps as above.
I just cut the paper around the monogram in a square smaller than the tile. I did NOT trim around the monogram.
You could also use monogrammed napkins if you don't have a printer.
Look how cute they are tied up in this gingham bow!
I would love to receive these as a present.
Gift #3
Heart-warming Hot Chocolate Art!
I soooo wish I could take credit for this adorable idea, but I can't!
I saw this idea at How Does She, (one of my new favorite blogs!) this past week, and I knew I had to share it with you!
It's Hot Chocolate Art by Shelley!
I cannot wait to make this for some special families in my life!
Shelley brainstormed words that described each member of her neighbor's family, and used a free online program called "Wordle" to create the art to wrap around the cups and cannister.
I can only imagine how fun it would be for each person to hold their cup of warm hot chocolate in their hands as they read the meaningful words that were written about them on the cup.  PRECIOUS!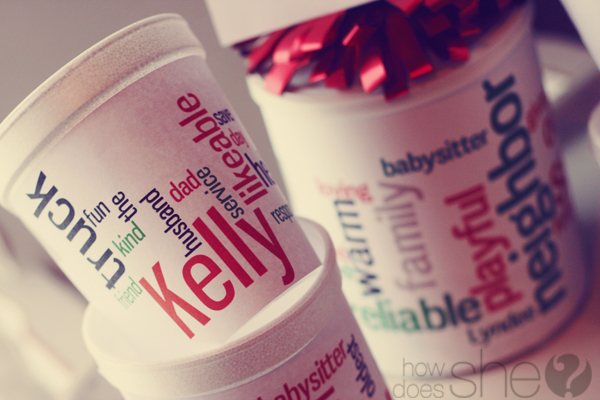 To find out all the steps to this adorable gift idea, visit the post Shelley wrote at U-Create by clicking HERE.
How Does She also have an extensive list of 30 Neighbor Gift Ideas that you have to check out HERE.
Tell them Traci sent ya!  :)
Extra Gift Ideas
To see how to make each of these, just click on the picture!
White Chocolate and M&M's Popcorn Treats
Stamped Tile Project
Clever Gift Wrapping Idea
Placemat Pillow
Silhouette Tiles
Wow!  That was a long post!  But I hope you found an idea or two that you liked.  :)
I want to thank Kaley, Sharon, and Katie for letting me join them this year in their Beautiful Christmas…on a budget series!
Here's some good news!
There is still one more day left!!!
Kaley is hosting a Christmas linky party on her blog tomorrow, so be sure to drop by and link up your Christmas ideas.  I can't wait to check them out!
I will send you the link to the party as soon as it is up!
Have a blessed day!