Beautiful Christmas Linky Party!
Hi, Friends!
I hope you had a great week!
Just wanted to let you know about the Christmas linky party Kaley is having over at her blog, Cha-Ching on a Shoestring.  It is Day of of our Beautiful Christmas…on a budget series.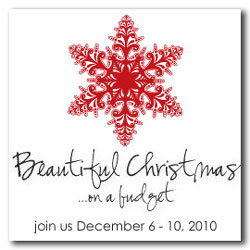 Hurry over there and link up your favorite Christmas post.  It can be about anything Christmas related.
I am excited to see what everyone posts about!
Just in case you missed on of the days of our Beautiful Christmas…on a budget series, click on the links below to check them out:
Monday: Sharon shared her beautiful decorating ideas that didn't cost her a penny!
Tuesday: Katie shared a delicious idea for Christmas morning…a  Holiday Coffee Buffet.  Oh my!
Wednesday: Kaley shared her thoughts and ideas on celebrating the season with fun and meaningful traditions.
Thursday: I shared some ideas for inexpensive, yet meaningful Christmas gifts.
Friday: Now it is time to party! Come on over!  Click HERE.