DIY Board and Batten Tutorial (in our laundry room)
I absolutely love board and batten walls, don't you?
I mean, they make my heart smile when I see them.  ;)
There is something so warm and inviting about them.
I have been wanting to put up some board and batten walls somewhere in my home.  Anywhere…
My first choice was Adam's room.  Eli will be moving in with him soon which makes for a perfect excuse for a room re-do, right?
And this is my inspiration photo for their room…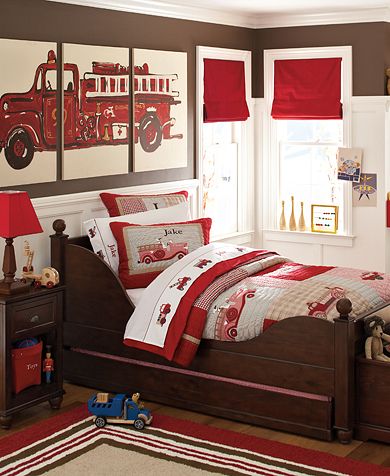 (Pottery Barn)
Why do I show you that when there is no board and batten walls in the picture.  Well…it might just be the reason that our laundry room now has brown walls above the board and batten!
I absolutely love it!  Brown is the perfect color for a "mud" room, don't you think?
Several of you have asked me the paint color and it is called  Shutter Brown.  I got it at Lowe's and used a Valspar satin finish paint.
Here is a quick DIY tutorial of how my husband installed the board and batten.  It is so easy it is ridiculous!
First, he measured  about 5 feet up the wall and installed a 1 x 4 around the perimeter of the laundry room.  You can put the top 1 x 4 piece at whatever height you desire.  We also added a little trim piece to give the top of the wall a "ledge", but that is not necessary to achieve the look of a board and batten wall.
For our baseboard, we also used a 1 x 4 piece of wood around the perimeter of the room.
Next, we used a tape measure and level to mark lines on the wall every 14 inches apart.   We were originally going to run our vertical boards every 12 inches, but they interfered with the electrical outlets.  So every 14 inches worked best for us.  You do whatever distance you like best.  :)
As you can see, we had to draw our pencil lines several times before we found the right distance between boards!  In the picture below, we just have the boards fitted in between the two 1 x 4's, they are not glued on yet.
Since every vertical board will not have a stud behind the drywall to nail into, you need to adhere the vertical boards with "liquid nails".  This stuff is the bomb-diggity!
Put the liquid nails in a glue gun(that is nice and clean like my hubby's) and squeeze out a strip of the "good stuff" onto the back of the 1 x2 board.
When you place the 1 x 2 on the wall, make sure you use a level to double check that it is on the wall straight!
Once you have that complete, all that is left to do is paint!
My husband used a Valspar interior white paint in "satin" for the walls.  He used the Valspar Signature interior white paint in "semi-gloss" for the wood pieces.
I really love the way it turned out!  I love how my husband can turn the dreams in my head into reality!  He just gets me!  :)
We are almost finished with the laundry room, but now I need to accessorize.  (the fun part!)
I'll share more soon…