I was so excited when Sandy responded to my "Help!  I'm Moving!" call!  I met Sandy at Blissdom over a year ago, and I cannot wait to see her this fall at the Relevant Conference.  She is one of the fabulous speakers!
Sandy holds a special place in my heart. :)
If you know her blog, you know she is famous for her hospitality and her delicious recipes. But today, she is sharing something different with us.
Thank you, Sandy!!!!
****************************************************************************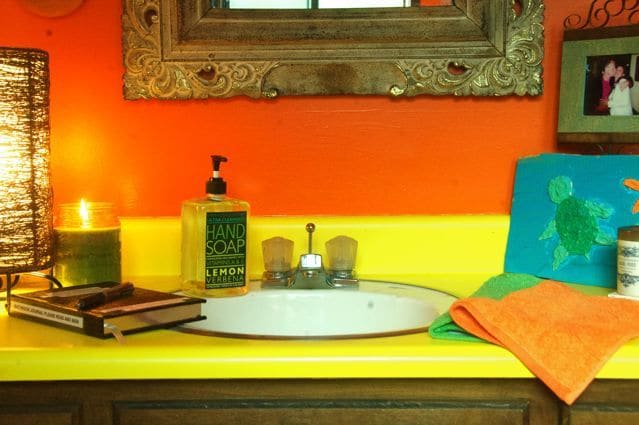 When Traci asked me to be her guest on Beneath my Heart, the first thing I thought of was her DIY blog and what I could offer her readers. I talk more about entertaining and food on Reluctant Entertainer, but a different idea came to mind, a simple project that I've wanted to do for a long time. And it only cost $4.99.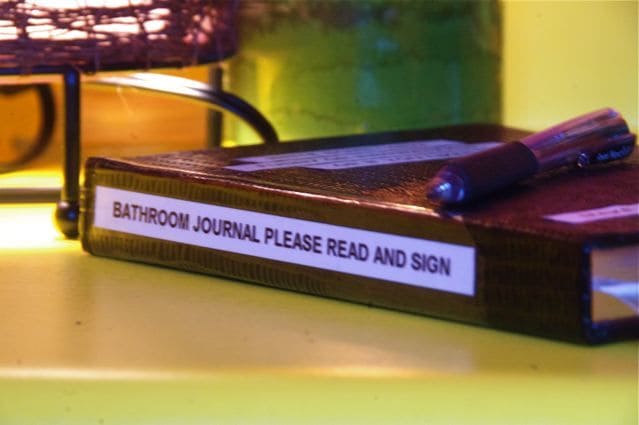 We have an outside bathroom off of our back patio area, and a pool in our backyard. We use this bathroom all the time, and in fact, one funky thing about our 1978 house is that even though it has 3 bathrooms, there really isn't a guest bathroom.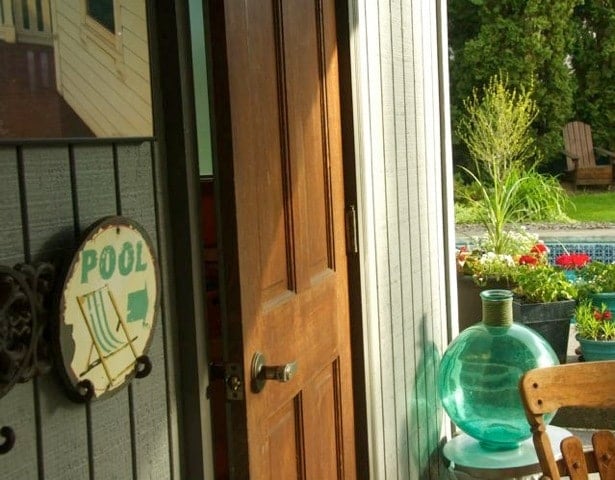 We have the master bathroom on the main floor, a full bathroom in our upstairs for the kids, and then our outside bathroom, which I love, because we've never changed the original cabinetry or floor. It's still the original 1978 oranges and yellows. We decided to paint the walls bright orange when we moved in to make it even more vibrant. In the bathroom, I've framed the kid's artwork from when they were little.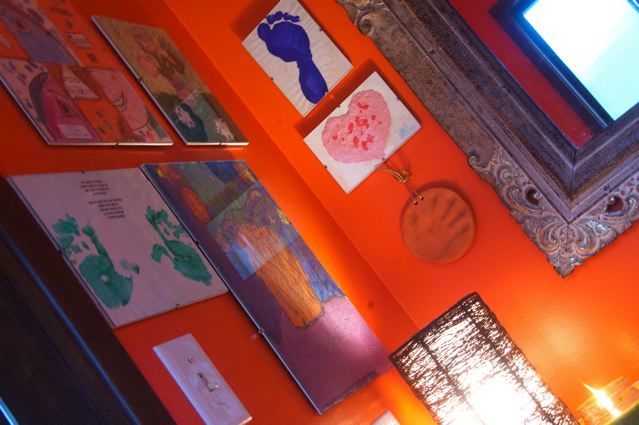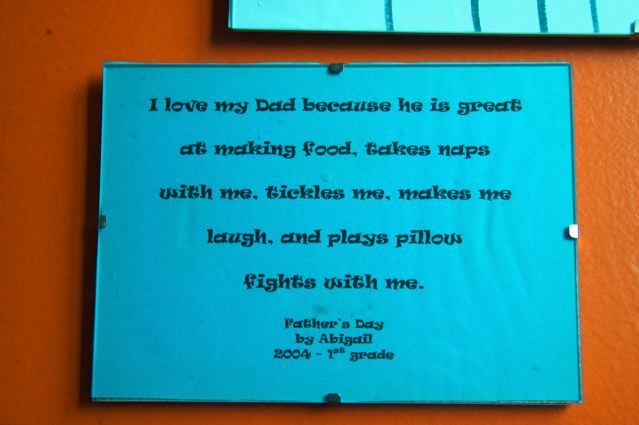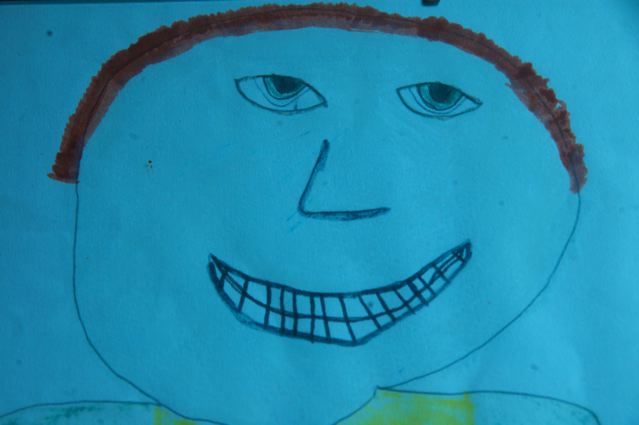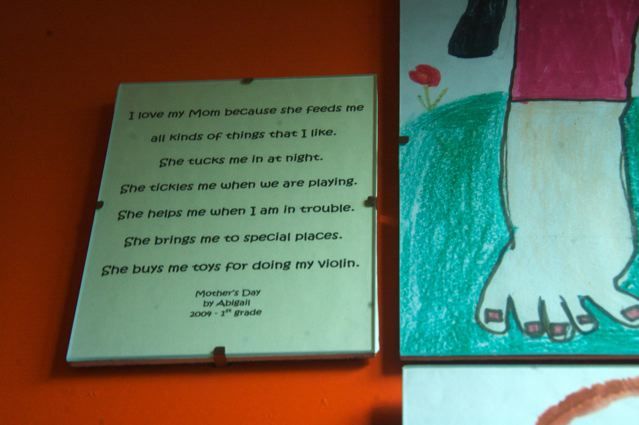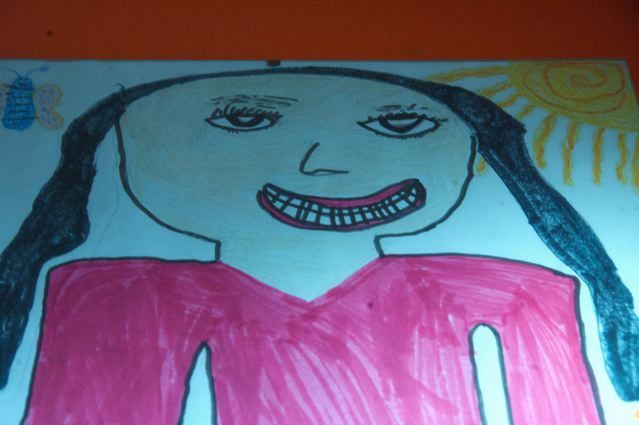 I love the smell of tanning oils and sunscreen that sit in a basket of their own. The scent reminds me of when I was a child, and we'd go to other pools to swim. I did not grow up with a pool, but we had many friends who did have pools, or my mother would take us to public pools. Wherever we were, we'd be slathered in sunscreen, and to this day it's a fond memory — the scent of summer.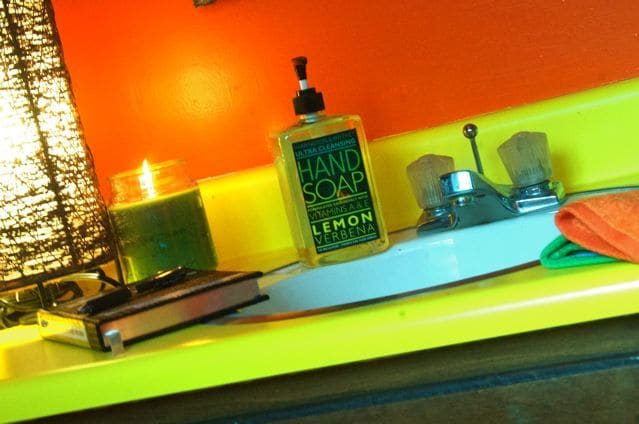 You've heard of guest books that are signed when you have guests over. And we have one that rarely gets used. For some reason we forget to bring it out when our guests are gathered around the table. So I decided to try something new.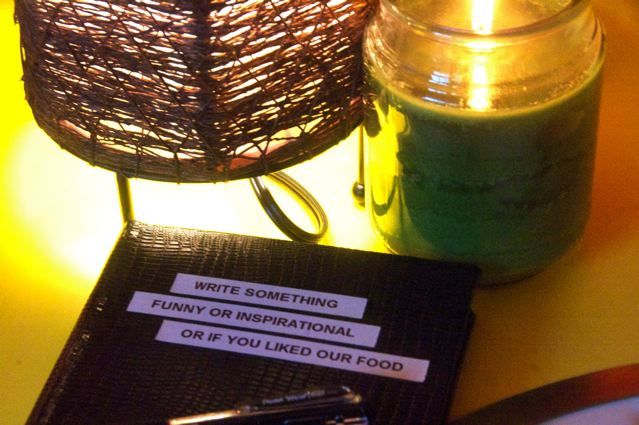 For $4.99 I purchased a plain journal and I wrote my own titles on it.
Bathroom Journal Please Read and Sign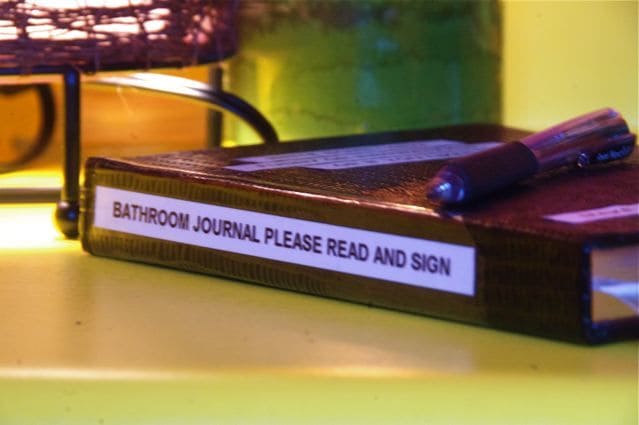 and …
Write something funny or inspirational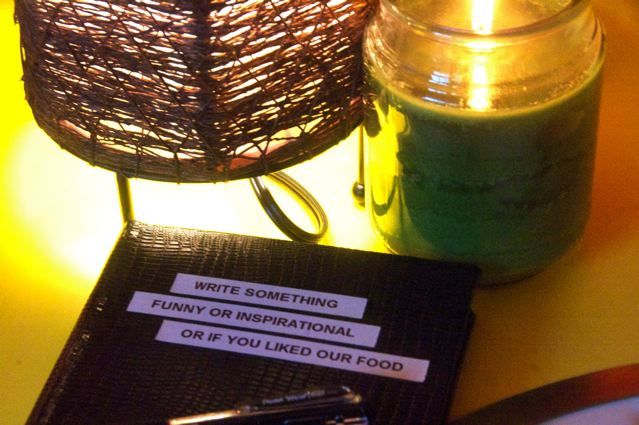 or …
If you like our food
I figured it would be fun for people to have the choice if they wanted to, while visiting our home for a party, swimming, or a dinner event. Why not? I just got back from Atlanta, from Blog Her Food conference, and I noticed that while my son was home over the weekend, he was the first to notice the journal.
I Love my MiMi. Elliot XOXOX 5/22/11
A perfect start to the book. I'm hoping it will get used. But if not, it was an inexpensive effort to create some fun memories with the guests who come in to our home. And not in the traditional "guest book" way. Do you have a guest book in your home? And if so, does it ever get used?
Written by Sandy Coughin Sandy Coughlin is a wife and mom of three teenagers, and is the voice behind Reluctant Entertainer, a hospitality blog dedicated to helping people in search of a lifestyle that says, "I can do this!". Her book, The Reluctant Entertainer, was recently published and is in bookstores now.

Sandy Coughlin –

Reluctant Entertainer

FB: Reluctant Entertainer