Summer Open Shelves in my Kitchen
Layla is having a Summer Mantel Party over at her blog, The Lettered Cottage today!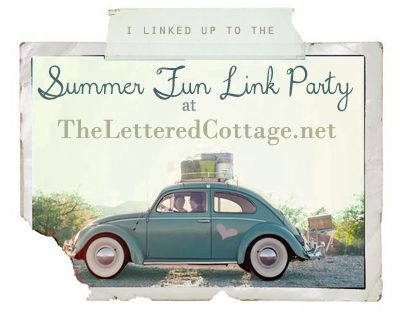 She asked me if I could like up my summer mantel to her party.  Problem is, I don't have a mantel to decorate.  I have a fireplace, but no mantel.  It DID have a mantel, but it was barely hanging on.  Adam pulled on it one day and the whole thing came down!  Since I want to paint the fireplace sometime, I haven't done anything with it yet.
Soooo, I told Layla that I couldn't participate in her party.  And then she said, "Could you decorate your open kitchen shelves?"
Well, yeah, I guess I could!  Layla said her party is for any shelf, ledge, mantel, etc!
So I got together some things around my house and decorated some of my shelves!
When I think of summertime, I think of LEMONADE!  So I decided to create a lemonade station in the kitchen where the boys can fix themselves a refreshing cup of lemonade at anytime.
I am absolutely in love with these daisy cut mason jar lids!  I wanted to find some fancy striped straws for my pictures, but couldn't find them in time.
For the shelves, I placed a brown basket that holds cloth napkins on top, a green pitcher I got from Marshall's a few years ago, pewter salt and pepper shakers, and a large white serving tray that was my mom's in the background.
The green goblets are the ones I got from my Pier One project.  For a touch of yellow, I put some real lemons in a glass hurricane.   It's hard to see, but I have some dainty fruit cups that were my mom's stacked on each side of the hurricane.
For the "FREE Lemonade" sign, I  used a piece of our wood flooring left over from our addition and wrote on it with my Chalk Ink pen.  I also cut out a chalkboard label on my Silhouette machine and wrote "lemonade mix" on it for my glass jar.
I bought some white daisy flowers from Kroger's for $3.99 and put them in a tin bucket.  They make this space looks so fresh and summery!  Why don't I buy flowers more often?
I'm very pleased with how it turned out, and it definitely brightened up this side of my kitchen!
Now hop on over to Layla's for more summertime inspiration!  I cannot wait to see what everyone comes up with!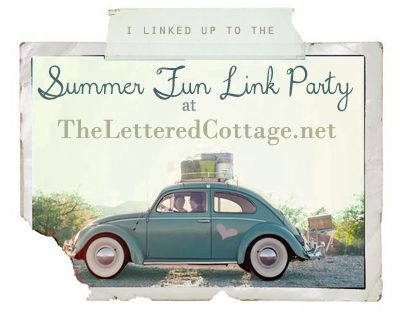 Also, the winner of the $50 Home Depot Gift Card giveaway is…
Debra Cheuvront

!

Congratulations!