Last year, we found this great antique claw foot tub on Craigslist.
You can see the video HERE.
Well, it was finally time to refinish this baby!
So Cy set the tub up outside on some saw horses this past week.
I'm not totally sure how completely safe this set up was, but it worked for us.
As you can see, the tub needed a little TLC.
I took a picture of the bottom of the tub to show you when it was made.  How cool is that?
Cy used an orbital sander, with 80 grit sander paper, at first to get the flakes off the outside of the tub.  With a cast iron tub, it is hard to get a perfectly smooth surface.
Next, he sanded it with 120 grit sand paper, and then 220 grit to get it as smooth as he could.
There were a few spots on the tub that sanded down to the metal, so he sprayed those spots with a spray primer so the paint would adhere.
Next, he chose to use white automotive paint from PPG that we had left over from another job that he had done a couple years ago.   Many people use automotive paint for the outside of the tub, but it is not necessary.
You could use the same tub and tile kit that we used on the inside of our tub (see below) on the outside of the tub if you wanted.
Aaaahhh…doesn't it look beautiful already?
Next, it was time to apply gel paint stripper on the inside of the tub.  Cy didn't have gloves on at first, but he quickly put them on, along with safety glasses.  This stuff will eat your skin up!
Let me tell you that my husband did this work in 100 degree temperatures!  It was BRUTAL!!!
He spent hours in the sun stripping the inside of the tub.  This was the most difficult part of the whole process by far.
He used a scrapper and wire brush to help strip off the paint.
I kept bringing water and gatorade out to him about every 10 minutes.  The boys and I watched him work from the comfort of our air conditioning inside the house.
He is such a hard worker!  I think I fell a little more in love with him that day.
After he cleaned up all the paint residue from inside the tub, he used his sander again to smooth out the surface.
He used 180 grit sand paper.
You can see that there was rust around the drain.
So Cy covered the rust with a spray primer/sealer.
Here is the spray primer that he used.  This will keep the rust from coming back and help the paint to adhere to the metal.
To  paint the inside of the tub, Cy used this Tub and Tile refinishing kit from Lowe's.  It's about $40 for a box, and we used almost two boxes.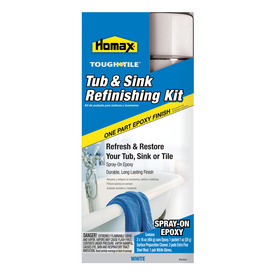 We bought the spray on refinishing kit, but Cy said there is also a brush-on kit you can purchase as well.
You want to make sure you spray the epoxy paint on in small, smooth strokes.
We did three coats of epoxy, lightly scuffing with steel wool between each coat.  Cy also used a tack cloth between each coat to get any dust/steel wool particles off the surface.
Notice the red towel Cy is holding?  It wasn't for the tub, it was for his head because his sweat kept dripping into the tub.  That's how hot it was!
For the claw feet, we just removed them from the tub and lightly sanded them before painting.  You can spray them with a primer first if you want, be we didn't.
We used some Valspar metallic spray paint at first
I wasn't crazy with the results.  It looked a little dull.
I was hoping for a shinier, "chrome-ier" look on the feet, so I went back to Lowe's and got Rustoleum's metallic spray paint.
I was super happy with the results!  I don't know if you can tell the difference in the pictures, but the Rustoleum spray paint was definitely shinier than the Valspar spray paint.
We left everything dry real good before bringing it back into the house.
Here is Cy hooking up the tub faucet.
Here is Eli enjoying the running water we FINALLY have in our bathroom!   Woohoo!
Now we have a beautiful claw foot tub to enjoy!
I love the way it turned out!  We have about $250 dollars in this tub (minus the faucet), and I think it is just as beautiful as this claw foot tub that sells for about $1,200 at VintageTub.  And that is on the low end of prices.
Cy also finished the window trim in the bathroom this weekend.  I will be posting a video tutorial of that soon.
What do you think of our "new" claw foot tub?  Do you think the money we saved was worth all the hard work?
If you have any more questions about this process, just let me know!
Thanks!