My Trip with Home Depot and Stiggy's Dogs
I can truly say that I am so excited to write this post.  Not because I took an amazing trip to Detroit last week with Home Depot (although that was great), but because I got to see first hand the goodness and kindness of so many people on my trip.
It is a HUGE honor to tell you about an amazing organization called Stiggy's Dogs and Home Depot's Celebration of Service program.
Home Depot has generously given $80 million dollars to improve the lives of our Veterans.  I cannot say enough about how wonderful I think that is.  I have the highest respect for our service men and women, and I am so grateful for the sacrifices they and their families make each day.
One of the organizations dedicated to helping Veterans that Home Depot is helping is called Stiggy's Dogs.
Y'all this is one of the coolest organizations I have ever known!
Stiggy's Dogs was founded by Jennifer Petre in memory of her nephew, HM3 Benjamin Phillip ("Doc Stiggy") Castiglione who lost his life at the age of 22 while serving our country.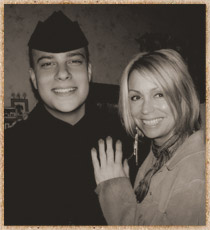 (Picture from Stiggy's Dogs)
Here is what I love about this organization:
From the Stiggy's Dogs' website….

About Stiggy's Dogs

Stiggy's Dogs is a 501(c)(3) organization that rescues and trains shelter dogs to be psychiatric service dogs for military veterans living with Post Traumatic Stress Disorder ("PTSD") or Traumatic Brain Injury ("TBI").  The psychiatric service dogs are trained and deployed at no cost to the veteran.

Stiggy's Dogs all pass the Canine Good Citizen ® Certification test and then are paired with their handlers for further training.  Since each veteran has unique qualities and needs, each dog is individually trained to meet that veteran's needs.  Stiggy's Dogs offers the veteran and dog pairing a lifetime of support after deployment.

The Need for Stiggy's Dogs

Studies have shown that 1 in 8 soldiers returning from Afghanistan and Iraq will have some symptoms of PTSD.  Feelings of anxiety, depression and detachment make returning to civilian life difficult for these veterans.  Those veterans living with TBI have their own unique needs.  Studies have also shown that 82% of patients with PTSD who were assigned a service dog had a decrease in symptoms.  This includes a decreased need for medication in 40% of the patients studied.

There are an estimated five million dogs sitting in shelters across America, many of whom will be euthanized.  Many of these dogs could make an excellent service dog for a veteran living with PTSD and/or TBI.  By uniting the two, we are Rescuing One to Rescue Another.

Psychiatric Service Dogs
Isn't that amazing?  I love their motto:
 "Rescuing One to Rescue Another."
So Jennifer and her husband purchased a house on a piece of beautiful property to run their organization.  (It was actually her husband's childhood home!)
On this property sits a home that was in need of renovation.  It also needed some work to make it a place for Veterans to come and stay and train with their new dogs.
So this is where Home Depot and their Celebration of Service program came in.
Over 200 Home Depot employees came together last week to volunteer their time (unpaid, that is!) to help renovate Stiggy's Dogs.
They landscaped…
Built fences…
Tore down walls and built new ones…
And much more!
Aaaaannnnnndddddd….guess who else was there?!
Frank Blake, Home Depot's CEO!
Yep!  I got to meet him and even sit right next to him at breakfast!
He is a super funny and down to earth guy.  We were going to ask him some questions, but he asked us bloggers way more!  He's fascinated with the whole blogging world (and Pinterest!)
In the opening ceremony, he presented Stiggy's Dogs with a check from the Home Depot Foundation for $25,000!
I know that money will go a long way in helping many Veterans through Stiggy's Dogs.
One of my favorite moments was when one of the Veterans that has received a service dog from Stiggy's Dogs held the America flag as we all sang the National Anthem.  My heart was swelling with pride!
(picture source: Gene Fleszar)
It was such a great experience to be there that day, but I wasn't the only blogger in attendance.
There were 11 other great bloggers that were part of this event.
Bloggers who attended: Ashley and Jamin(Handmade Home), Dan (Military Avenue), Kierstie (Brown Paper Packages), Emily (Decor Chick), Stacy, (Not Just a Housewife), Lori (Witty Little Secret), Gail (My Repurposed Life), Rachel (Lovely Crafty Home), Kris (The New Normal), Diane (In My Own Stlye) and Trisha (24/7 Moms).
About half of these bloggers I have met in real life before, and about half I hadn't.
I LOVE meeting other bloggers!  It is an instant connection and camaraderie.  We laughed so much together, and then we worked hard at Stiggy's Dogs together.
Home Depot also told us about a lot of energy saving tips that they are using during Stiggy's Dogs' renovation.
Here are a few:
1.  Replacing old heating and cooling filters.
2.  Installing energy efficient light bulbs.
3.  Caulking the windows.
I will be sharing more about these tips in a future post that will include an awesome giveaway for my readers!  Yeah!!!
The best part of the day for me was meeting and talking to one of the Veterans who suffers from PTSD and TBI and learning first hand  how much his beautiful service dog, Barrett, has improved his quality of life.
I couldn't help but get emotional as his wife told about how her husband has suffered from flash back nightmares for 9 years, but now his service dog, Barrett, is trained to wake him up from his nightmares as soon as they start.  She tearfully shared with us how in just six short weeks of having his dog, her husband's life has completely changed.
What a blessing!
However, there is  a two  year waiting list for our Veterans to be paired with a service dog.  I pray that  more can be done to help our Veterans receive a dog even sooner.  If you would like to help in some way, visit Stiggy's Dogs for more information.
Thank you, Home Depot,
for allowing me to be a part of such an amazing event
honoring our Veterans who deserve it so much!
The Home Depot partnered with bloggers such as me for their Celebration of Service Blog Network. As part of this program, I received compensation for my time. They did not tell me what to purchase or what to say about any product mentioned in these posts. The Home Depot believes that consumers and bloggers are free to form their own opinions and share them in their own words. The Home Depot's policies align with WOMMA Ethics Code, FTC guidelines and social media engagement recommendations.