Lowe's Bathroom Makeover Reveal!
Guys! I am sooooo excited to finally share with you the bathroom makeover we did with Lowe's!! Remember the call I put out in August for people in my area to apply for a Lowe's Makeover?
Well, we had a lot of wonderful people apply, and we looked through all of the applicants and potential spaces to makeover, and one sweet family stood out to all of us…
Meet Casey, Courtney, Annabelle, Eden, Yana, and Jade…
Courtney and Casey are the proud parents of those four beautiful little girls! Courtney submitted the girls' bathroom for a makeover…
The bathroom had navy blue walls and linoleum on the floor.
The lighting and vanity were very dated and needed to be replaced, and the toilet area needed some built in storage above it.
Also, the tub did not hold water and had some other issues as well.
I knew immediately that we could make this bathroom into a bathroom fit for 4 princesses! Courtney shared with me what she envisioned for the bathroom which included a custom built makeup vanity, lots of storage, a color palette of aqua and lavender, new flooring, and a new shower area. After listening to her ideas, I came up with this mood board…
We were so excited to get this project started, and we are so thankful for the wonderful Lowe's employees that helped us the first day. (I'm so sorry the pictures are so blurry. :( I actually shot a video of them and these are screenshots from the video.)
The first day we were busy trying to get the old tub out and the new one in. Thankfully the Lowe's crew was there to help us problem solve! They were a HUGE help! Once the tub was installed, we were able to start tiling with this beautiful glass tile.
We also installed these long rectangular gray tile on the floors, and I love it!
Here is a pic of me and Cy working on installing the faucet. (Did I mention how much I love working with this man! DIY is our love language.) :)
After many hours of work (and shopping!,) we were finally finished! Do you want to see it?! Drumroll please…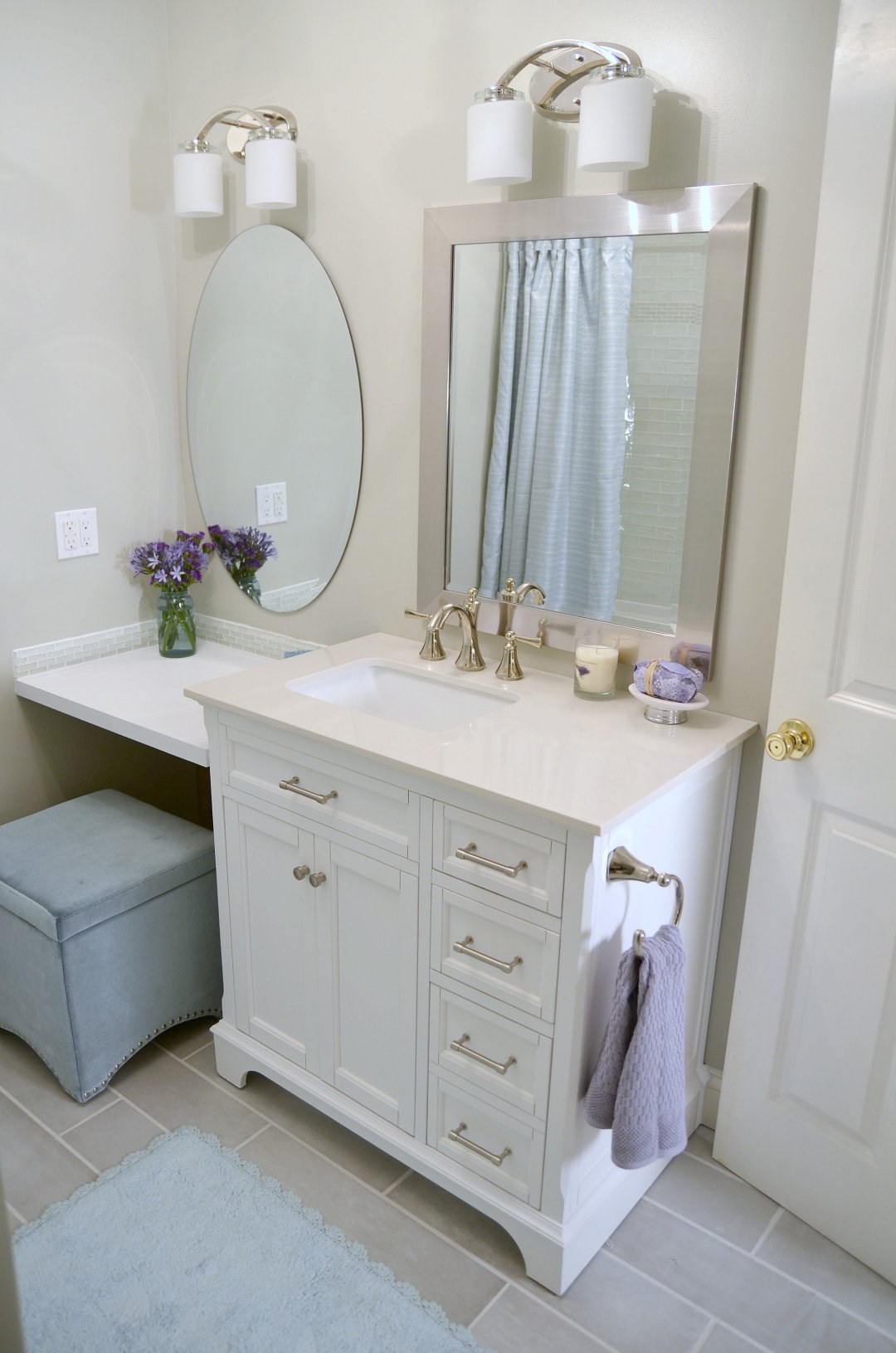 Isn't it wonderful?! I just love the way it turned out! You can see to the left of the Allen + Roth vanity that Cy built a custom makeup table for the girls as they grow older.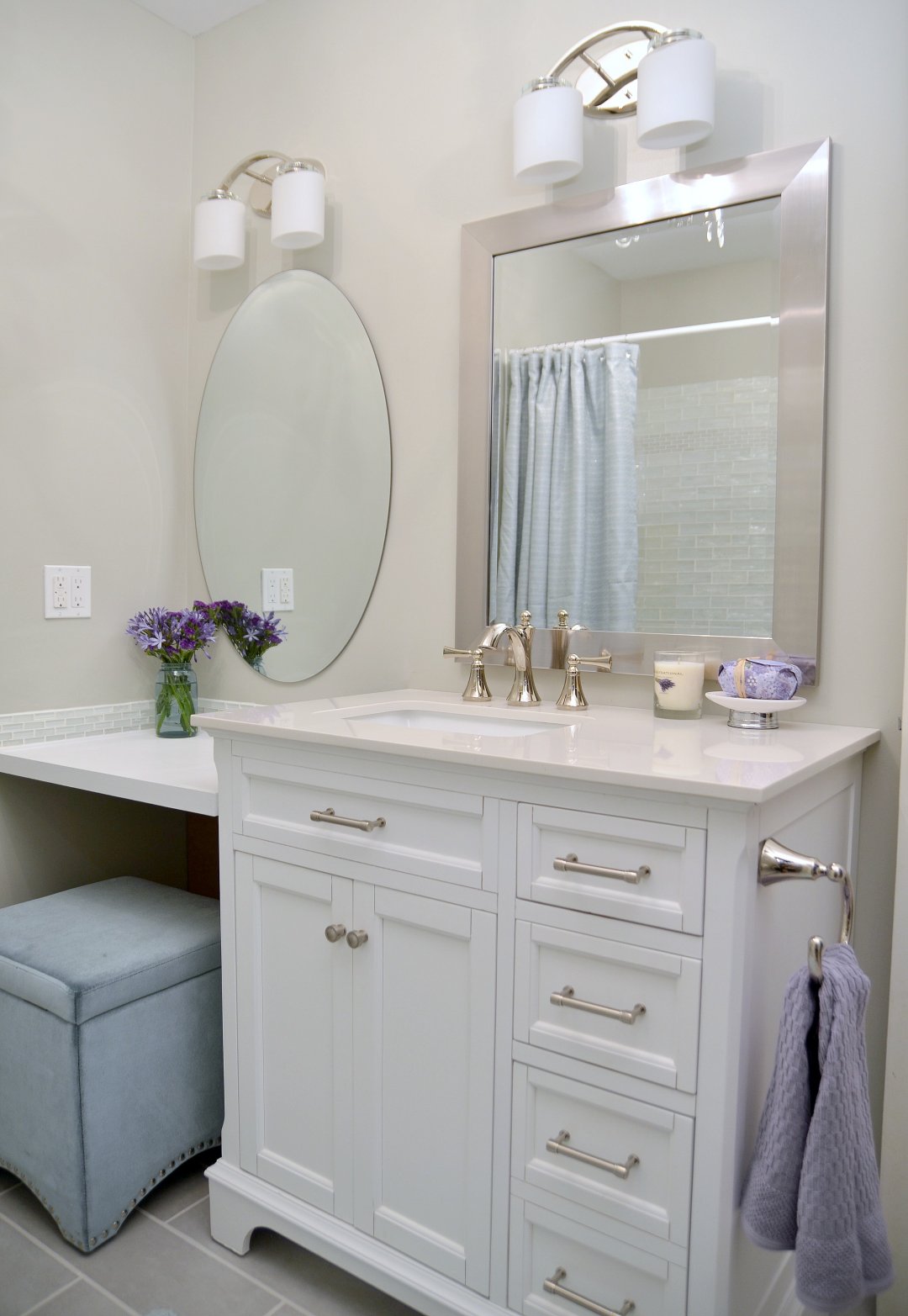 The top of the vanity seat actually lifts up and has more storage for the girls.
Courtney wanted the girls to have easy access to the hand towels, so we decided to install the towel ring on the side of the vanity.
The makeup table is lined with the same accent tile that we used in the shower.
It was super hard to get pictures in this bathroom because there is no natural light, and it is at the end of a hallway, so when I turned out the lights it was pitch black in there. I did my best, and I think the pictures are beautiful, but I do think the shower tile is even more gorgeous in person! It is sparkly and beautiful, and Courtney said the girls feel extra special when they take their baths in it now. #missionaccomplished
This beauty in the middle of the ceiling is one of my favorite parts of this makeover! It is a gorgeous polished nickel chandelier, and it adds the perfect touch of sparkle to the bathroom.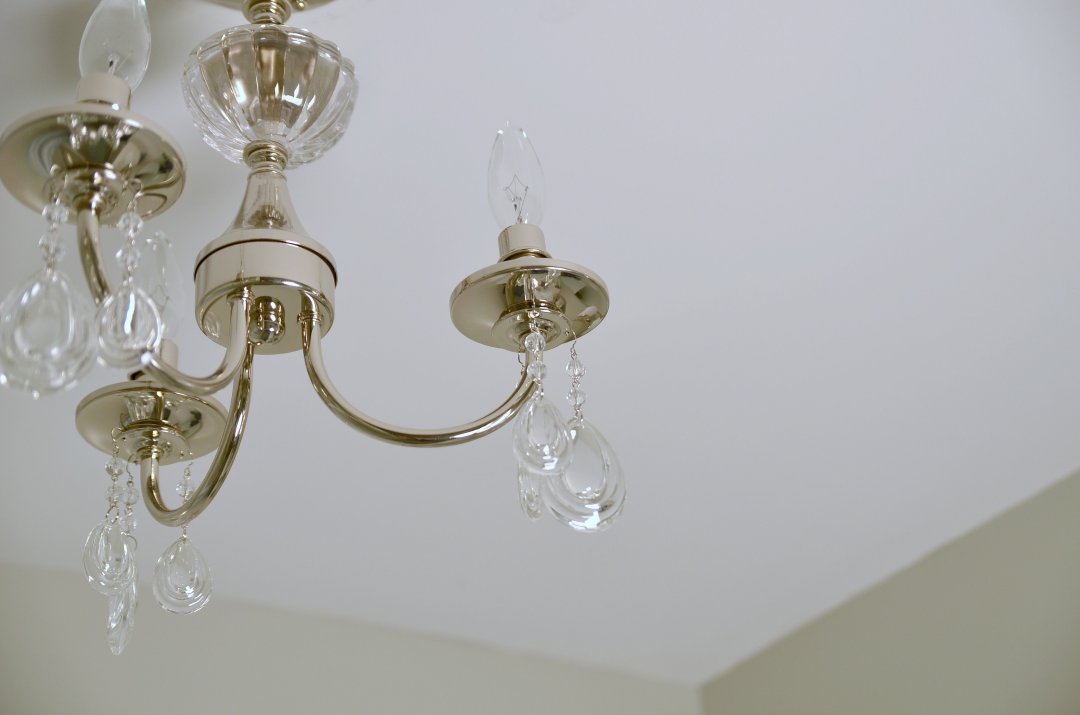 Here is a better look at the chandy on Lowe's website…
We also added a mini glass pendant above the toilet, and build some floating shelves for extra storage. And did I mention that the toilet is SELF-CLEANING?!! Yep, ladies, it is AMAZING!! I don't usually get very excited about toilets, but this one changed that. Courtney and I were "ooh-ing" and "aah-ing" at the buttons that light up (hidden at the top of the toilet) and were amazed when with just one touch, the toilet was getting cleaned. #thismakesmamashappy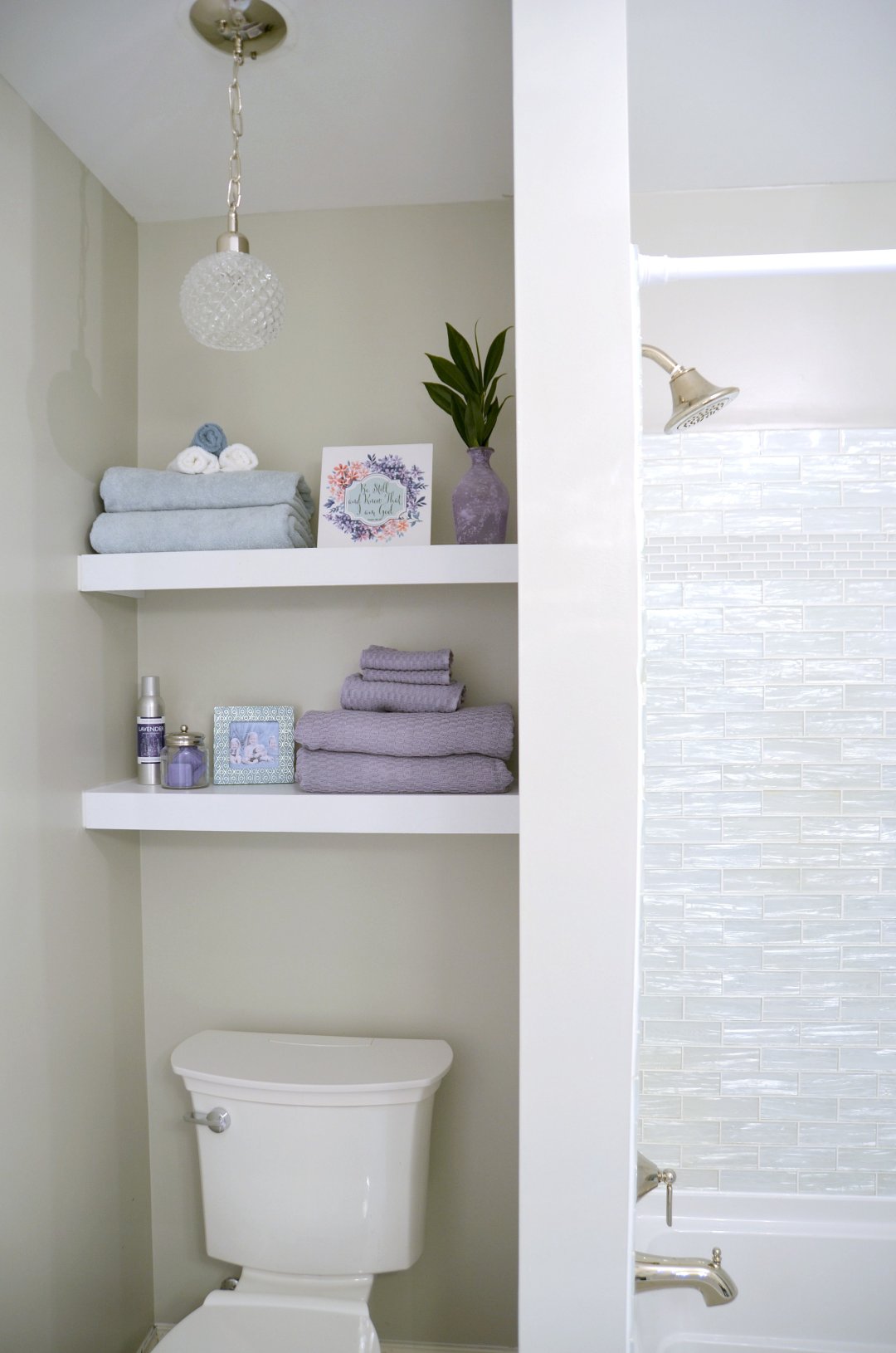 The girls FAVORITE color is purple, and even though it isn't my favorite color to decorate with, I had fun adding touches of lavender all around the bathroom.
Now if we can take a minute to enjoy the "jewelry" in this bathroom…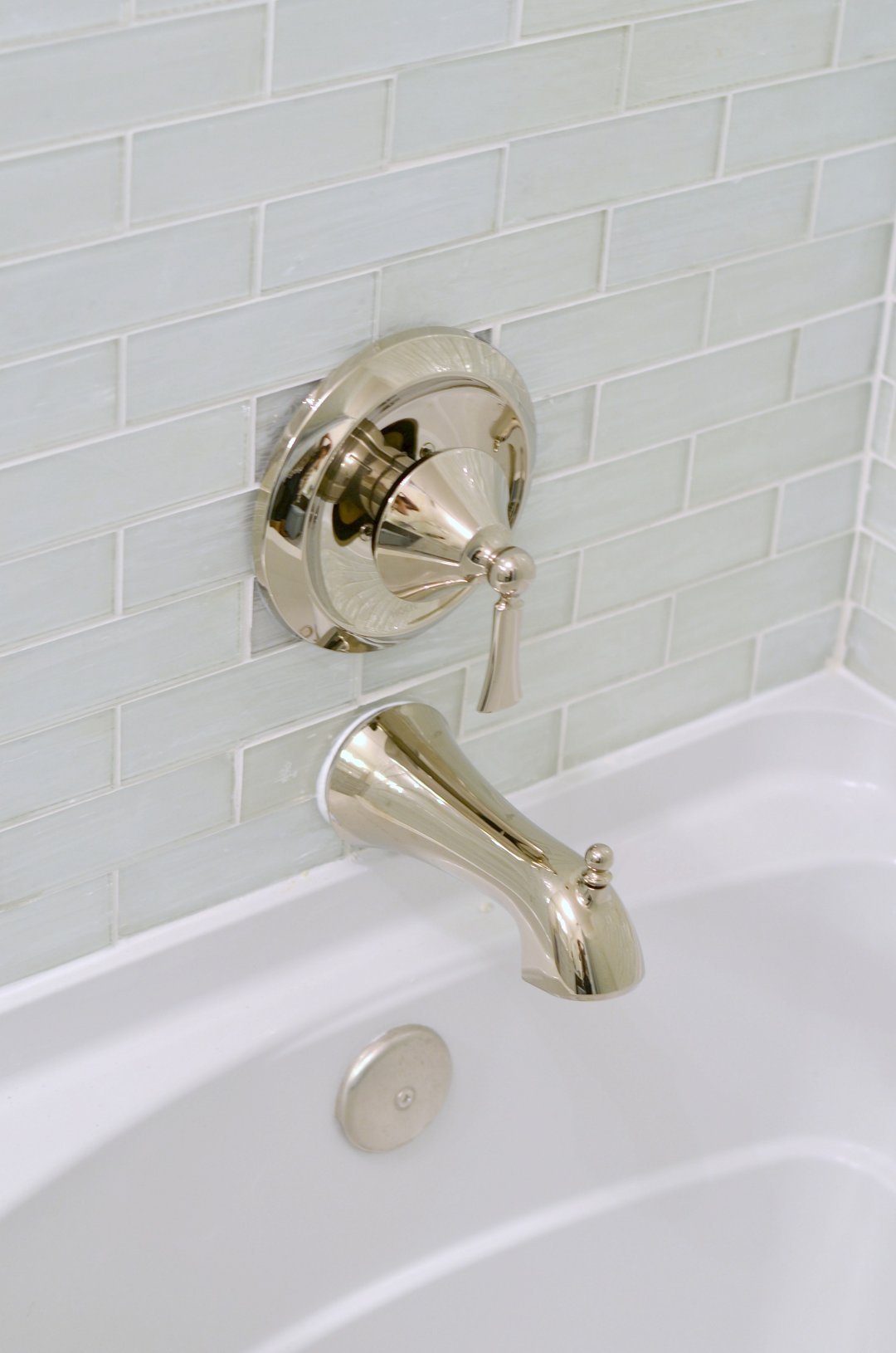 The polished nickel shower faucet and sink faucet are to die for!
Dare I saw the sink faucet is sexy?
I couldn't stop taking pictures of it! ha!
Lastly, you can see how well the gray floor tile goes with the whole bathroom.
This makeover is different from ones that I usually do because it isn't "modern farmhouse" style, but I love that it stretched me out of my comfort zone. Courtney and Casey and the girls are super happy with it, and that is what matters most when doing a makeover for someone. :)
Speaking of Courtney and Casey, one of the reasons their application stood out to me is because we have been on similar journeys the past couple years. God whispered to both of our hearts to adopt a little girl from overseas. We adopted Sania Louise from Latvia, and they adopted Yana from Bulgaria. And God specifically called Courtney and Casey to adopt a little girl with Down Syndrome. What precious people they truly are!
Courtney found out she was pregnant with their third daughter in the middle of their adoption of Yana. So they now have four little sweet girls all under the age of 4! WOW! This whole family definitely deserved this makeover.
As you can tell, we got really close to this sweet family during the makeover. Sania Louise was with me each time I was at their house, and she had a ball playing with all of those girls! Eli was also at their house a couple of times, and had so much fun playing with Annabelle (the oldest) and Eden (the sweet thang I am holding in the picture!) Jade was somehow able to sleep through some of the chaos even though her room was right next to the bathroom, and Yana…she stole our hearts! She has come sooooo far in the short time that she has been with her forever family. She still has a long way to go, but with the love of her new family, the sky is the limit for Yana!
The best part of doing these makeovers is getting to know the families. We are still close friends with the family that we did the Lowe's Spring Makeover with two years ago, and I know that we will be friends with Courtney and Casey for a long time as well! These families bless my heart so much, and it brings me so much joy doing makeovers for them.
I am so thankful for my partnership with Lowe's that allows me to have opportunities like this to serve others!
Now, let's take a quick look back at some of the before and afters of this bathroom makeover.
So what do you think? I would love to hear it in the comments!
And if you have any questions at all about this makeover, feel free to ask.
Have a blessed day!
xoxo
Traci
*This makeover was sponsored by Lowe's. All ideas and opinions about this makeover were my own. As always, I am so grateful to partner with such an amazing company as Lowe's!