A Summer Tablescape & Happy Birthday, Eli!
Hello friends!
I wanted to take a second to share a couple things with you real quickly.
First of all, I wanted to tell you I am guest posting today at a wonderful blog called Positively Splendid!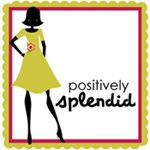 I am sharing a summer tablescape that can be used to celebrate the ones you love!  Click HERE to read my post.
Amy is the creator of this fabulous blog, and if you haven't visited her before, you are missing out!  This is a blog I would encourage you to add to your blogroll.
The name of her blog fits it perfectly.  Her blog has such a positive, encouraging vibe.  And Amy is super talented.
She is hosting a summer series right now that is full of amazing ideas from amazing guest bloggers.  (Did I just call myself amazing?)  :)
Be sure to check it out.
I also wanted to share with you that today is my sweet Eli's birthday!  We had his pictures taken, and of course, I had to share them with you.
God gave me this precious little boy at a time in my life that I would need him most.  He has brought me many smiles during some very dark days of my mom's illness and death.
His Dad and brothers adore him too!
I've said it before, but I will say it again…..He is the cherry on top of our family
Happy Birthday, sweet Eli!!