Oh my!  Look who's here today as my final guest poster!

Layla, from The Lettered Cottage!!!
I was so happy when Layla responded to my "Help!  I'm Moving!" email.  She is one of the most talented bloggers in blogland.  If for some CRAZY reason, you do not follow her blog, then you need to hop your behind over to her blog after reading this post and click "follow".  You will NOT be disappointed.
She has mad decorating skills!  And she has a pretty great DIY Partner in Crime too, her husband, Kevin.
They are always up to something amazing.  I never miss a post!
Thank you, Layla, for coming to my rescue!  You are the bomb-diggity!
*********************************************************************

Hi! I'm Layla, and I write a blog called The Lettered Cottage. Traci is one of my favorite peeps on the planet, and I'm absolutely thrilled to be her guest blogger!
One of my favorite things to blog about is vintage goodies, so I thought I'd share some pics of some of my favorite "go-to" finds with you today.
(Traci and me at Rare Bird Antiques in Goodlettsville, TN)
I've got a thing for old dressers, and when my hubby and I spotted this one for $40, we couldn't load it into our car fast enough…
It used to look a lot different than it does now though. We gave it a little makeover by painting the body, sanding the drawer fronts, and replacing the original hardware with wood knobs and rope pulls. We also added our anniversary date (6/25) to make it extra lovey-dovey for our master bedroom.
And speaking of our master bedroom, another vintage bauble that always makes my heart sing is this little perpetual calendar I've got on my bedside chest…
(Purchased from UrbanFarmgirlAndCo on Etsy)
It's such a fun way to start the day! Perpetual calendars come in all shapes and sizes, and they're usually under $20…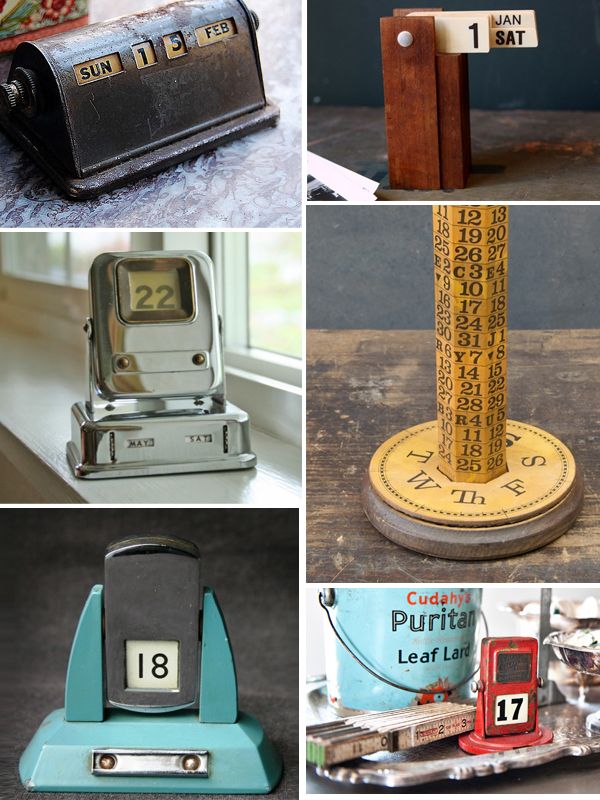 I've gotta get me one of those red ones some day…hubba hubba!
Here's another fun old find we picked up at a local flea market recently…
It's called a tobacco basket, and I think we're going to hang ours as art in our home office. But, who knows, it may end up somewhere else, serving a completely different purpose. That's part of the beauty of previously-loved stuff. The sky's the limit when it comes to repurposing! Take our "Wish" for example…
Those two chunks of wood probably used to be bookends (?), but stacked on top of each other sideways, it sort of looked like a wood fish ("Wish") to us. He lives on a shelf in our guest bathroom these days!
Another goodie that's multi-purpose and that always makes my heart go pitter patter is an old suitcase. We created a bedside table out of a stack of them at The Mess Hall on Tybee Island…
I love how the different colors and textures play together, and there's such a sense of history between all those beautiful buckles!
And one last lovely, low-cost treasure that can be used a bunch of different ways is shutters! We put some together to form a headboard for a project we wrote about on HGTV.com…
…but there are so many other ways they can be used. From art, to bulletin boards, to sofa tables, to jewelry holders…
…they're such a fund-friendly way to add a bit of fabulous flea market style to your home!
And that brings me to the question du jour: what types of secondhand goodies do you just love to scoop up?