Bathroom Makeover REVEAL!!!
Well, we finally finished Mandy's blue bathroom makeover!
We are so excited at how it turned out.
It looks soooooo much better, and we transported the bathroom from the 1970's to the year 2011!
I wanted to try something fun with this post, so I finally figured out how to do the "mouseover" effect with my pictures.
All you have to do is move your cursor over each picture to see the AFTER shot.
Try it out!  :)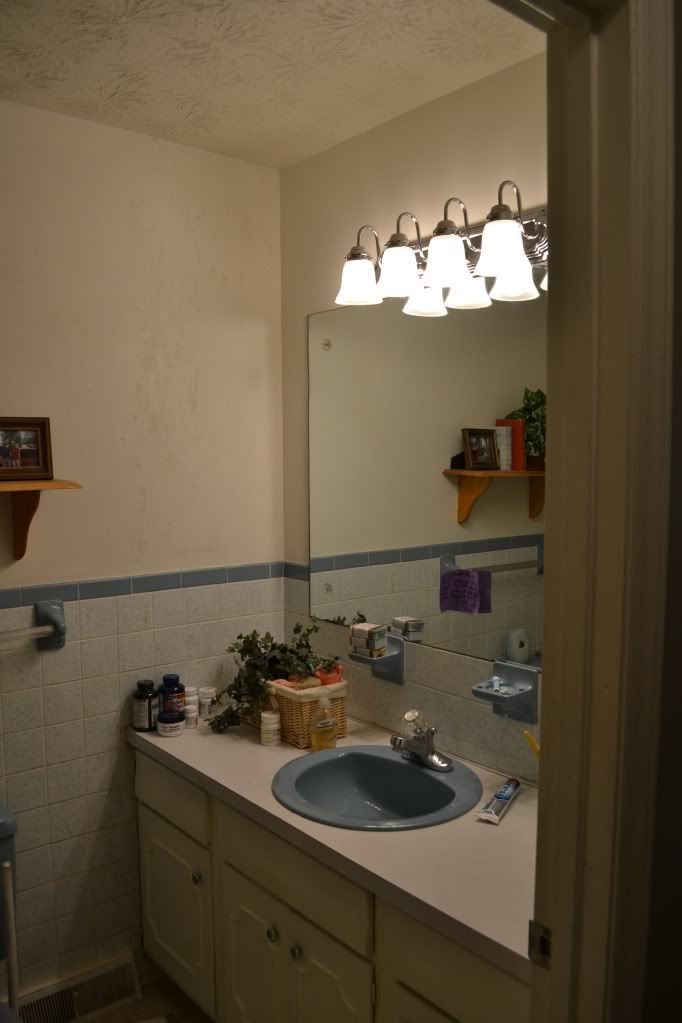 Doesn't it look so much better?!  In these pictures you can see how we installed a beautiful new vanity top and white sink.  We also replaced all the silver fixtures with oil rubbed bronze ones.
Move your cursor again over the picture below to see the before and after!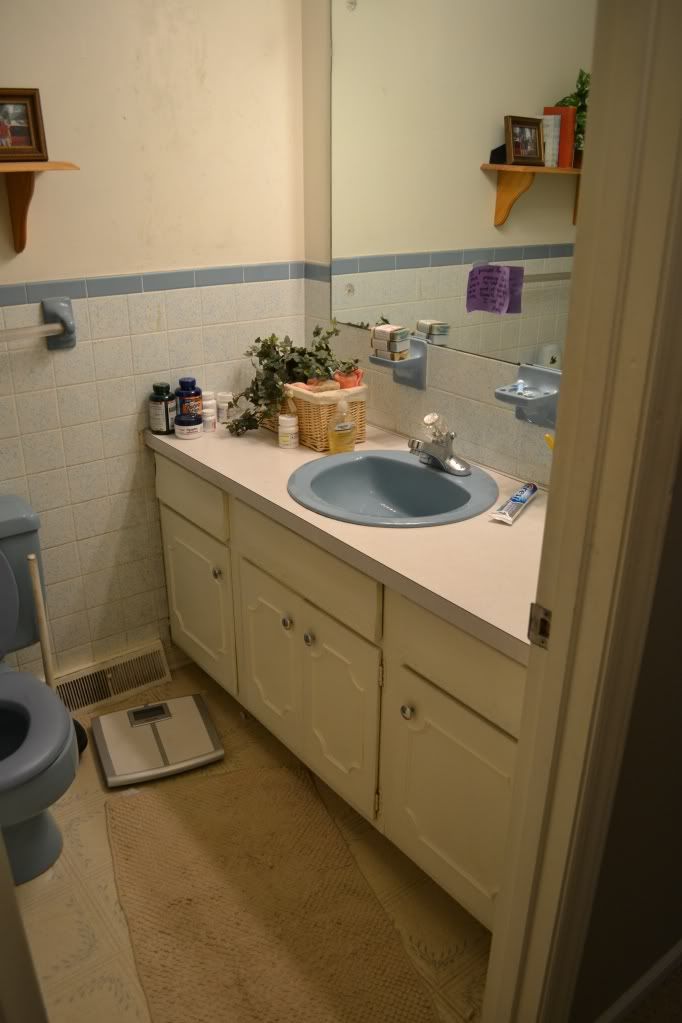 The cabinets got a fresh coat of white paint and new hardware.
Go on…keep going…keep on moving that cursor over the picture below…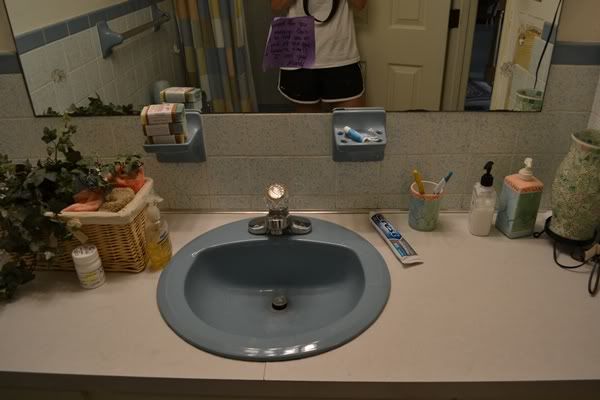 The biggest change to the bathroom was getting rid of the blue tub and toilet.
My husband installed a new white toilet, and he glazed the tub himself with a $40 kit from Lowe's.  You can read about how he glazed the tub, HERE.
Now move your cursor over both of the pictures below to see the before and after!
And again…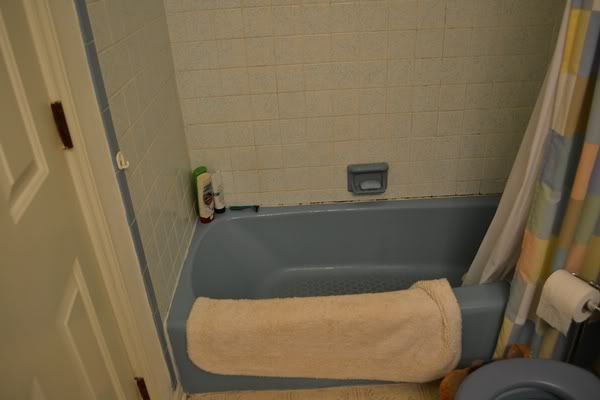 The shower curtain wasn't hanging very well  in the above picture, but it is a beautiful shower curtain.  Here is a shot of the curtain pulled out…
The 3D flowers on this curtain are so adorable!  I purchased it at HomeGoods.
And behind the shower curtain is the beautiful tile work that my hubby did!
Didn't he do a great job?!
Move your cursor over the picture below to see the before and after…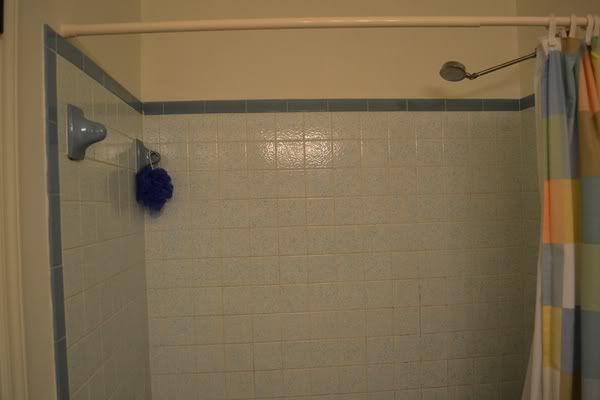 We were so happy to see the blue toilet with the padded seat go "buh-bye!"
Move your cursor over the picture below and say "Goodbye ugly blue toilet!"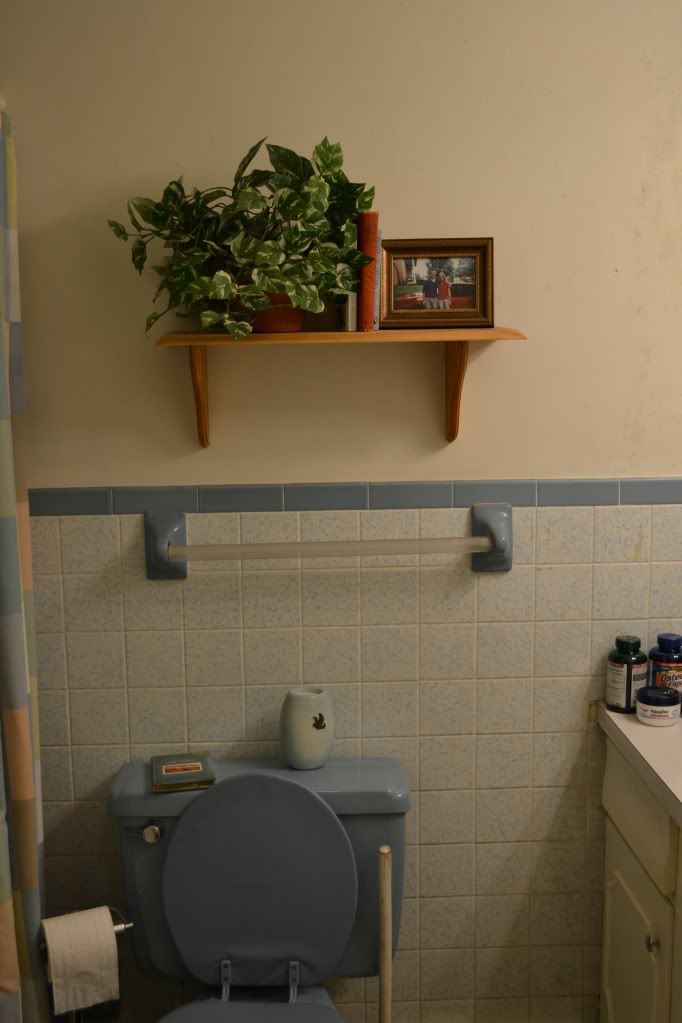 We kept the same light fixture and just spray painted it with Oil Rubbed Bronze spray paint.
And the gorgeous mirror we got at Lowe's!  (I usually do not take pictures for my blog with the lights on.  But there is absolutely NO natural light in the hallway or bathroom, so I had to leave the lights on.)
Mandy is extremely happy with the way her bathroom turned out!  And we are too!
Here is one more look at the before and after…
Just move your cursor over the picture….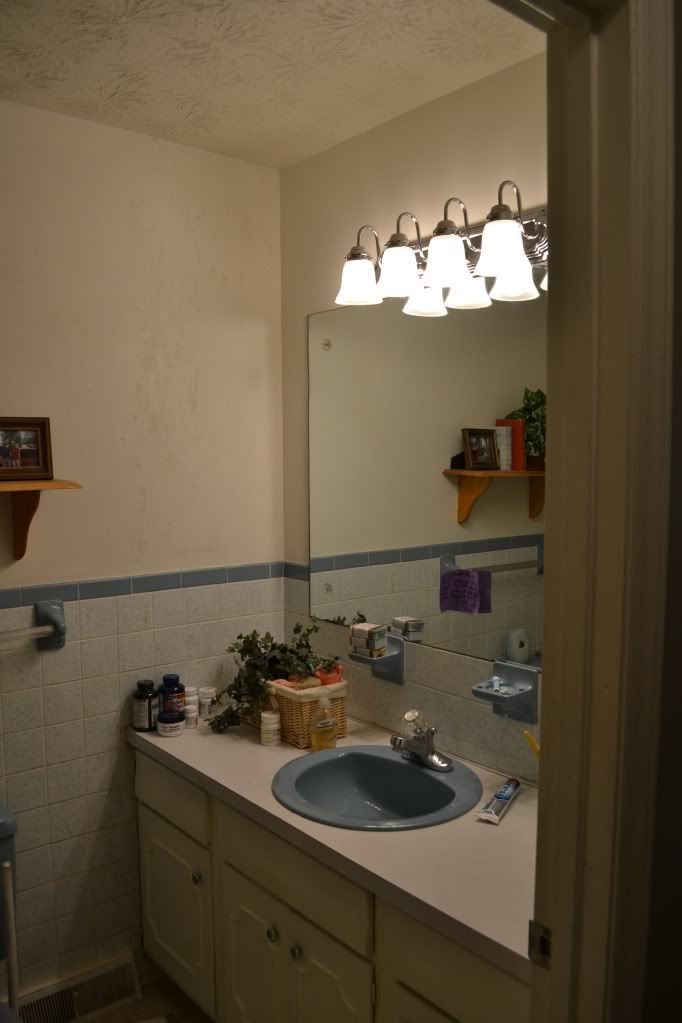 We are going to be doing a little work around our home for the next few weeks, and then we will be back to work at Mandy's house!  :)
We will be doing a makeover in her downstairs bathroom, laundry room, and entry way.  Fun!
Have a blessed day!
Linking this project to…