Fireplace Makeover Reveal!
Oh, girls! We have been so busy around here! So busy, I didn't even have time to post yesterday and share what we've been up to. But if feels so good to be getting things done.
One of the major things that I have been wanting to get checked off our list was our fireplace makeover.
I have never liked our fireplace every since we moved in our home over a year ago.
I've wanted to get my hands on that thing for-eva!
Here is what it looked like exactly one month ago. We were installing the hard wood floor at that time.
The fireplace had these four vents that were huge eyesores. I knew I needed to get rid of them or paint over them.
I took them off and found a lot of cobwebs.
There also used to be a small brown mantle on this fireplace that had been glued down and was barely hanging on. Adam pulled on it one day while standing on the fireplace, and down it went! I wasn't mad because I was wanting to get rid of it anyway.
We only had a small ledge left.
So can you agree with me that this fireplace was in need of a makeover?
Well, my first thought was to white wash the brick. I LOVED the wall my wall in my bathroom turned out (you can see that HERE), so why not try it on my fireplace?
Let's just say that it was a project fail. I didn't water down the paint enough, and it went on the brick way too thick.
I disliked it so much, that I didn't even take a picture of it.
But I did find this one when Cy was working on the floor. (Yes, my sweetie works in his dress socks.)
As you can see, it didn't turn out like I had hoped.
So we moved on to plan B. Which was really plan A, but I thought I would try white washing it first to see how it turned out. I knew I could cover it up if I didn't like it.
We were so excited when Kevin and Layla posted their fireplace makeover just a couple of weeks ago! It couldn't have been a more perfect timing, and Cy used it as his guideline. He had to do some things differently because of the ledge and vents on ours.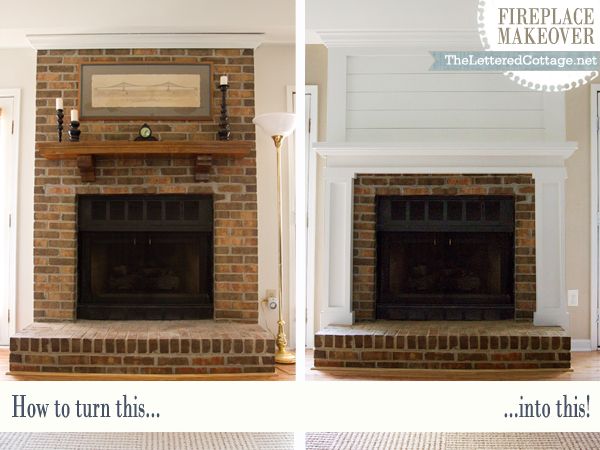 Cy got busy on building a surround for the fireplace, and I will share the steps with you tomorrow. This long post would be even longer if I included all the steps in it!
He worked his tail off on this surround!
So are you ready to see it?
I haven't decorated it yet, so it's all naked, but it still looks pretty to me.
Now let's look at the before and after side by side…
Yikes! I love it!!!
Now I get to have fun decorating it.
I'll be back tomorrow with a tutorial of how we did it.
Have a blessed day!
UPDATE:
Here is what our mantel looks like now: