We moved into our house almost two years ago, and we inherited this sad, sad little mailbox when we did.
The red flag was broken and the numbers were barely hanging on. And the mailbox was connected to the wood post with one little screw so it would flip sideways when the wind was blowing real hard.
About 6 months after we moved into our home, our sweet little neighbor girl down the street, Ana, asked me, "Are you gonna get a new mailbox?"
I had to laugh. Even a child knew it was time for a mailbox makeover.
Well Ana, it's a year later, but we are gonna finally get a new mailbox!
Yay!!
Here is what we bought to give our mailbox a makeover!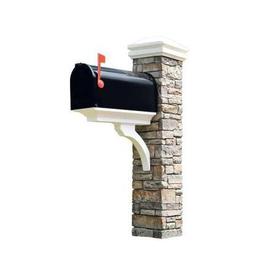 It was so easy to install and took us less than a few hours.
Here's what we did:
We dug a new hole in the ground 18 inches deep and inserted a 4×4 post in the hole.
Next, we filled the hole with QuickCrete from Lowe's.
All we had to do was pour water on top of the Quickcrete and let it sit for about an hour to harden.
But be sure to check and make sure it is level before you let it harden.
Take a break and go eat some chocolate or get a coke from McDonald's while the Quickcrete is setting.
Then come back and slide the cast stone post over top of the 4×4 wood post.
The front of the cast stone post will lay flat against the front of the 4×4 post. This way, when you screw in the mailbox holder and mailbox to the front of the cast stone post, it will join the two together making the post sturdy. Clear as mud?
And oh yeah, BE SURE TO CHECK AND MAKE SURE IT IS LEVEL.
Then add the cap stone on top. We applied an epoxy underneath to keep it on.
Drill holes in the cast stone post where you would like your mailbox holder to go. Then screw the mailbox holder to the post using the screws provided in the box.
I wanted a mailbox with a red flag, like this one:
Once it was dry, we screwed the mailbox to the mailbox holder.
Instead of putting the numbers on the mailbox, I decided to use this reflector number sign.
I love it, and you will be able to see our house numbers when your car lights hit it at night.
Look, no more broken red flag! I might actually enjoy mailing my bill payments now that I get to raise that cute little red flag when I do. Okay, who am I kidding? That's not gonna happen.
But I can still enjoy it when I send out birthday cards!
I added some mulch around the base and planted some pretty red dahlia flowers from Lowe's.
I am so excited about this makeover! It's been a long time coming, and it makes me smile just looking at it.
So what do you think, Ana? Did we do good?