Remember back in March, how I told you that one of Cy's first jobs in his new business was remodeling my brother and SIL's kitchen in their new home?
Well, he finished it a couple of months ago, but I just now got over to their house to take some "after" pictures!
Sorry for the delay.
But I am so excited to show you Cy's fabulous work!
Let's remember what it looked like before….
And the after!….
My brother, Blake,  and sister-in-law, Ande, are absolutely thrilled with how it turned out!
It is amazing how much of a difference was made by painting the kitchen cabinets white!
He used Benjamin Moore's White Dove on the cabinets.
The oak cabinets completely dated the kitchen…
But now the cabinets look fresh and current…
To paint the cabinets, Cy used the Homeright Finish Max Sprayer.
You can read about how he painted the cabinets HERE.
Ande chose to paint the island herself, and Cy installed a new granite counter top on it.
Isn't it gorgeous?!  I believe Ande got those stools at IKEA.
Cy also installed IKEA butcher block counter tops just like the ones in our kitchen.
I cannot get enough of butcher block counter tops!
Ande picked out a beautiful stainless steel farmhouse sink for her kitchen.  Cy had to rebuild the cabinet below to make it fit, and it looks great!
Blake and Ande also had the floor refinished, which added even more beauty to this space!
So there you have it!  What do you think?
Did Cy do a good job? 
Next week, I am going to show you the makeover he completed on my Aunt and Uncle's master bathroom.  You won't believe it!
If you have any questions about the kitchen makeover, feel free to leave it in the comments below.  Thanks!
Linking to…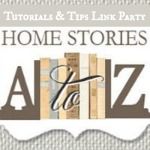 .

*This post contains affiliate links.