I cannot tell you how much fun my sister and I had together in San Francisco!
I didn't have to knock her out on the plane, or nothin'!
She did so well at facing her fears, and I am so proud of her! 
We were invited to San Francisco to visit and tour the Stitch Fix headquarters and warehouse.  Stitch Fix is a company that Cyndi and I both love and work with on our blogs.
It is a online personal styling service for women, and we were going to get to see all the behind the scenes stuff of how it works.
Fun!
Cheryl, Tidy Mom, and her daughter, Allison, were also invited on the trip.  We had so much fun with these two!  The trip wouldn't have been the same without them!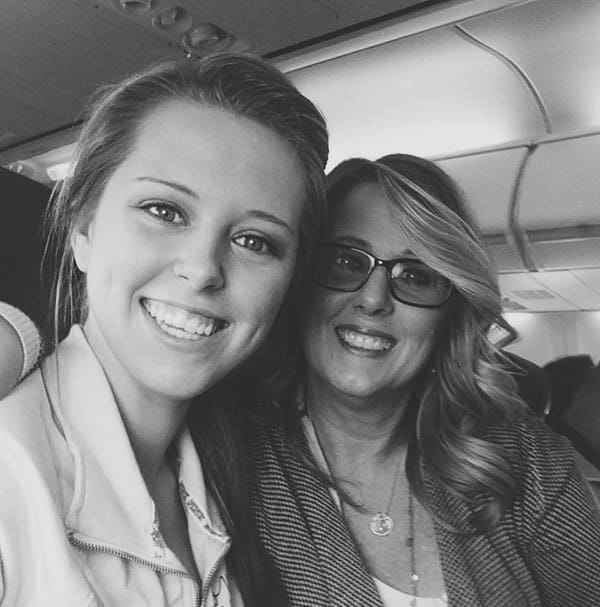 We started the first day at the Stitch Fix headquarters and got to sit in a "flash" meeting.
This is where all the stylists share their most recent fashion finds with everyone.
They showed us how they use each customers "style profile" to help them pick five items that they will love for their "fix" each month.
It was so much fun seeing all of this "girly" stuff.  I am usually around boys and paint and power tools, so this was a much needed change. 
They let each of us take turns styling each other.  Cyndi and I styled each other, and Cheryl and her daughter styled each other.
Then they showed us how they create style cards for each of the five items in your fix.
Cyndi and I love getting our style cards in our box each month, so it was fun creating one ourselves.
Here are the shirts I styled on Polyvore.
We also got to sit around the coffee table and discussed more fashion.
They asked us a lot of questions about what we like or don't like about our boxes.  I loved that they really wanted to know our opinions and ideas to make Stitch Fix even better.
Then we got to put on a few Stitch Fix items and walk the streets of San Francisco while the paparazzi followed us and took pictures.
Okay, it wasn't the paparazzi, but it was Michael Bisig, a wonderful photographer taking pictures for Stitch Fix.
We laughed until we cried during that photo shoot!
I created a little video of some more of the fun with pictures that were not included in this post, and some video I took on the trip too.  It's only about a minute long, so I hope you enjoy it!
Stitch Fix Vacay (part one) from Beneath My Heart on Vimeo.
I will be sharing another post about Stitch Fix soon, and a giveaway too!  Yay!
If you don't know what Stitch Fix is, you can read more about it HERE.
Or you can visit there website by clicking the link below.
Have a blessed day!!