5 Easy Steps to an Outdoor Makeover
Are you enjoying more time outside now? We sure are! I cannot get enough of it. However, my back yard was really needing a makeover.
Here is my sad outdoor space that was in desperate need of some TLC.
There were five things that I wanted to do to this space to make it ready for outdoor entertaining this summer.
1. Add a new rug to define the space.
2. Add an umbrella to create shade from the sun.
3. Add cushions and pillows for comfort.
4. Add candles/lighting for ambiance.
5. Add flowers to the pergola for color.
These 5 things are not very difficult to do, but they made a dramatic difference in our back yard.
Here is what it looks like now…
Can you believe the difference?! I love it now!
The outdoor rug had been there for three years, and it had seen better days. It was time for it to go. It seriously had like grass growing in it, or something else. Ew.
So I got a this new rug from Lowe's…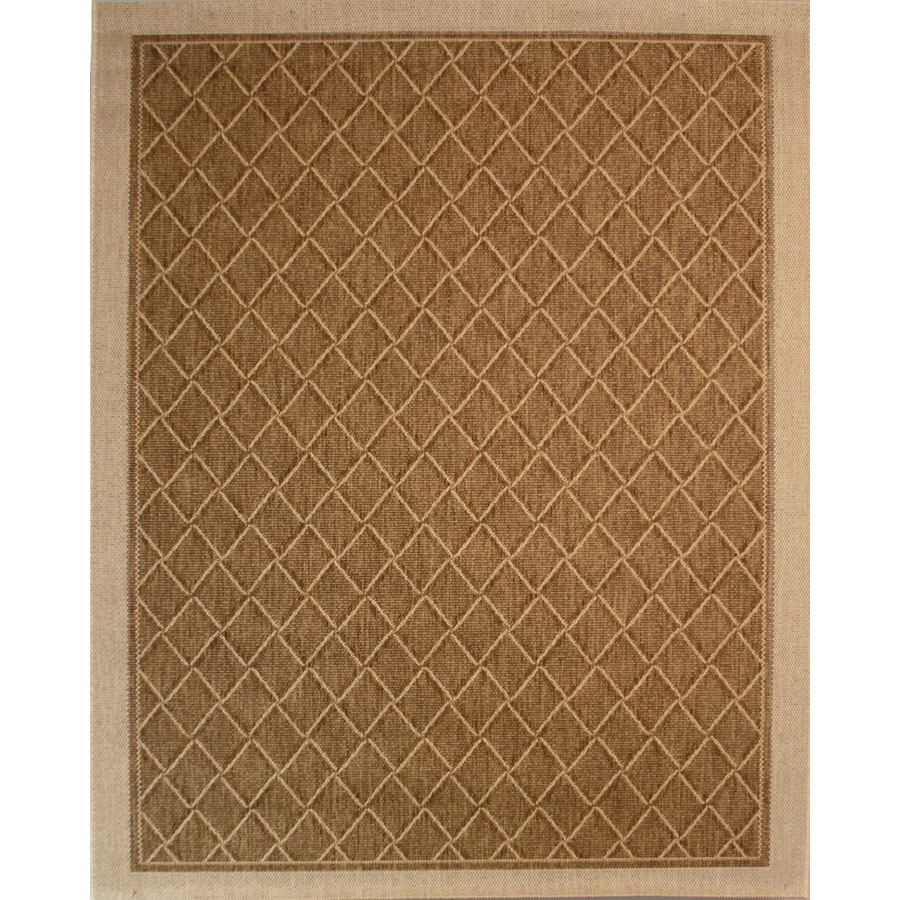 Society Page 7-ft 10-in x 10-ft Rectangular Brown Geometric Indoor/Outdoor Area Rug
It really brightened up the space and made my table really stand out!
Btw, I got those black iron table and chairs at a yard sale for $25 about 15 year ago. I spray painted them hunter green to match my house at the time. Yikes!
Since then, I have painted them black. I give the whole set a new coat of black spray paint every spring, and they work perfectly all summer long!
The second thing I wanted to do was add an umbrella because we get a ton of direct sun in this space. An umbrella is a necessity!
I found a neutral one, by Garden Treasures, at Lowe's that I loved.
I usually always buy a neutral colored umbrella because it goes with anything, and all I have to do is change out the cushions and pillows when I want to change my color scheme.
Next, I found some cushions and pillows that I loved and added them to my patio set and swing under the pergola. They add so much color to our back yard, and they will help our guests feel extra cozy and comfortable when visiting.
My favorite, and fourth, thing that I love to add to an outdoor area is candles/lighting.
I found this candle holder at Lowe's that I absolutely love!
It's a "umbrella centerpiece," and I have always wanted to try one of these.
It was super easy to attach to the pole, and it looks so pretty all lit up at night.
I'm still finishing the area under out back patio, but I wanted to show you some lighting that I added to one wall in that space as well.
I got those lanterns at Lowe's, and they match my pillows perfectly. They have the black iron hooks/hangers at Lowe's as well for just a few bucks. Cy drilled a couple of holes in the brick and then we screwed the hook/hangers to the wall. For an extra touch, I used some rope to hang the lanterns from as well.
I don't know if you can tell that I have candles lit inside the lanterns because it wasn't dark enough outside yet. But they are beautiful at night! They cast a beautiful glow on my brick wall, and I love them!
Lastly, adding flowers to your outdoor area definitely spruces things up.
I found these teal pots and pretty pink hydrangeas at Lowes, and thought they would look beautiful in front of my pergola.
Now I can sit on my swing and enjoy them all summer long!
So there you have it!
My back yard is coming together. Stay tuned for more pictures of our makeover later this week.
More DIY ideas at Lowe's Creative Ideas, follow Lowe's on Instagram, Pinterest and sign up for the Creative Ideas magazine and app!
Disclosure: I received a Lowe's gift card for this project. All decorating ideas and opinions are 100% mine.